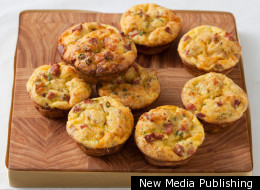 Leftovers are an inevitable part of the Easter holiday, but what do you do with them all? Do you send your guests home with your leftovers? Do you eat ham sandwiches for the rest of the week until it's all gone and you never want to see ham again? Those leftovers don't have to be a burden if you reinvent them into new dishes.
Take, for example, a frittata -- it's probably the best example of a dish that hides the ham easily, because in small amounts ham adds great flavor but the dish itself isn't necessarily shouting "I'm ham!" We've got a bunch of great ideas for you to use up your leftover ham, using it as an accent by dicing or shredding it. Browse through the gallery to see the possibilities!
How do you reinvent leftover Easter ham? Let us know below.
leftover easter ham recipes
This recipe is based on a strata (an egg casserole), except it's made in a muffin tin to create individual servings. The egg-and-bread mixture features diced ham and cheddar cheese. Letting it sit overnight ensures the bread is properly soaked. Bake it in the morning for breakfast or brunch. Get the Cheddar, Ham and Scallion Cups recipe

Make this dish when you're in the mood for a quick Southern-style supper. Simply saute onions, celery, diced ham and black-eyed peas and serve alongside steamed green beans and corn bread. It's on the table in just 20 minutes. Get the Black-Eyed Peas and Ham recipe

This hearty bean soup is a great way to enjoy leftover ham and with only a few simple ingredients it's easy to make. The recipe uses dried beans, which are more economical than canned. If you like, mash a portion of the beans to create a thicker texture. Pair it with sauteed kale with diced ham and corn bread for a complete meal. Get the Soup Beans and Southern Kale recipes

Meat lovers will appreciate this triple-threat ragu recipe, which has ground beef, pancetta and diced ham. The corkscrew-shaped fusilli helps hold the creamy meat sauce, which uses only tomato paste for sweet flavor. Top with grated cheese. Get the Butcher's Ragu with Fusilli recipe

Use up your leftover ham in this delicious breakfast or brunch dish. Line a small skillet with ham, spread with a bit of homemade or store-bough tomato sauce, top with eggs and a spoonful of cream. Bake and serve garnished with fresh herbs -- it's simple! Get the Shirred Eggs with Ham and Tomato recipe

This recipe is a take on Italian pickled vegetables (giardiniera), which are often served as antipasti. Here, the cauliflower florets are marinated in vinegar and sugar for that characteristic flavor. Then it's tossed with snap peas, white beans and shredded ham. Serve it as a main course lunch. Get the Giardiniera with Ham and White Beans recipe

The classic Swiss rosti (a potato pancake) is usually served plain, but this version fills it with diced ham and Jarlsberg cheese. To save on prep time, use frozen hash brown potatoes instead of grating your own. Get the Ham and Swiss Rosti recipe

Use leftover ham to create this pasta salad for lunch. It's packed with fresh vegetables such as broccoli, bell peppers, red onion, spinach and radicchio. Raisins add sweet bursts of flavor. Toss the salad with a creamy herb dressing made with yogurt. Get the Broccoli, Ham and Pasta Salad recipe

This recipe is a cross between the classic Easter side dish pineapple soufflé and a bread pudding. However this version has diced ham thrown in. For a healthier take, use whole-wheat bread and milk instead of cream. Be sure to use canned pineapple, which has less moisture than fresh -- this way the souffle does not get soupy. Get the Pineapple and Ham Bread Souffle recipe

Green eggs and ham never looked better than in this frittata, which has spinach, leek, havarti cheese and diced ham. A bit of dill adds a nice fresh flavor. Start the recipe on the stove-top and finish cooking it in the oven. Get the Green Eggs and Ham Frittata recipe

Sick of ham sandwiches for lunch after Easter? Make these mouth-watering, gourmet alternatives instead!