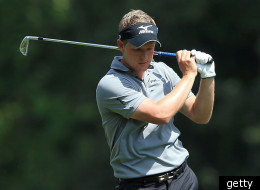 By Jason Sobel, Golf Channel

AUGUSTA, Ga. – After a few hours of consternation on Thursday afternoon, it was determined that Luke Donald did not sign an incorrect scorecard and will not be disqualified from the Masters.
The issue surrounded Donald's score on the par-4 fifth hole. He three-putted for a bogey 5, yet when his scorecard was faxed to the official scorer, the number – being kept by playing partner Francesco Molinari – looked like a 3. The result was that it was believed Donald had signed for a 73 rather than the 75 he actually posted.
While the problem took a while to sort out, both Augusta National officials and the No. 1-ranked player himself were confident that no mistakes had been made.
Donald will start at 3 over when he begins his second round on Friday alongside Molinari and Nick Watney.
"Donald avoids disqualification" by Jason Sobel appears courtesy of Golf Channel.

Read more at GolfChannel.com:
Let the Masters Begin GOLF TV INSIDER
Donald practicing off-green putting with driver
Who is the best player without a major?