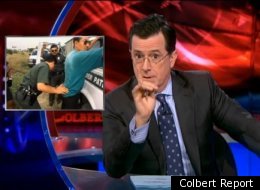 On Wednesday, Stephen Colbert poked fun at Mitt Romney's trouble appealing to a key voter "demografico": Latinos.
According to many political analysts, Latinos will be an important swing vote in the 2012 election. But according to a recent Fox News Latino poll, Romney would only win 14% of the Latino vote if pitted against Barack Obama. Some say a modern presidential candidate needs at least a third of the Latino vote to win the election.
"Republicans will need to work hard to capture the Latino vote -- instead of their current strategy of capturing Latinos," Colbert said while flashing an image of a Latino man being arrested by the Immigration and Customs Enforcement.
Colbert points to Romney's harsh line on immigration as a reason Latino voters have been turned off by the candidate. Romney has labeled Arizona's harsh immigration law, a "model for the nation", and calls for the 11 million undocumented immigrants to "self deport."
Colbert then suggests Romney run a fake ad that his team has produced in order to attract Latino voters. The ad, which is narrated in a bad "Spanish accent," depicts a number of negative stereotypes sometimes associated with the Latino community.
One man with a heavy accent asks, "Where are the American jobs I came to steal?"
WATCH: Who else has self-deported?
The onetime world chess champion Bobby Fischer was quick to self-deport himself before having to actually face forced deportation. Fischer self-deported and even tried to renounce his American citizenship in 2004 after he was detained in Japan and faced deportation to the U.S. for traveling with an invalid passport. In the U.S., he was under indictment on charges of violating a ban on travel to Yugoslavia where he traveled in 1992, to play in a match against Boris Spassky. After earning $4 million for this, Fischer never returned to the U.S. for fear of arrest and imprisonment. "Bobby Fischer is sick and tired of how he has been treated by the U.S.for the past 12 years," said John Bosnitch, the head of the Free Bobby Fischer Committee back in 2004 according to Bloomberg. On January 17, 2008, Fischer died from degenerative renal failure at a hospital in Reykjavik, Iceland, where he lived out his final years.

You may not know Dave Spector but the Chicago native is a big celebrity in Japan, where he appears on television programs, commercials and dramas. Spector writes columns in Japanese magazines and has published books. Unlike other American celebrities who've tested their fame in Japan, Spector is able to absorb news from back home and express it in a way that engages the Japanese audience. In the spirit of Mitt Romney's new take in immigration, you could say that Spector "self-deported" to Japan in the 1980s as a producer for Ripley's Believe It or Not. Three decades later, Spector is still working hard and enchanting his fan base in Japan.

Terry Gilliam of Monty Python fame finalized his self-deportation from the U.S. when he renounced his American citizenship in 2008. Gilliam claimed his decision was fueled by the state of the American political arena. "It is absolutely frightening," Gilliam said of the political scene at the time, according to CBS News. "Homeland Security is just like [his film] 'Brazil's' Ministry of Information, because if your job is counter-terrorism, what do you need to keep in business? You need terrorists, and even if they aren't there, we may have to create new ones. It works very well." Still, Gilliam had other options when he renounced his U.S. citizenship. After all, he's had British citizenship since the 1960s. Flickr photo by Fran Petersson

David Hasselhoff further cemented his status as a household name with his role as Mitch Buchannon in 1990's TV series Baywatch. A few years later, a leaked video of a drunk Hasselhoff brought him further notoriety. But truth be told, in the U.S., the Hoff, as he is often called, has remained at the apex of pop culture, primarily as fodder for comedians. But not in Germany. The Hoff's "self-deportation" to Europe turned out to be a great career move. In fact, Hasselhoff may be one of America's most popular exports there, where he's enjoyed a fruitful and stunningly popular singing career.

Nicole Scherzinger of The Pussycat Dolls fame is known mostly in the U.S. as host of 'X Factor'. But in the UK, Scherzinger is widely recognized as a pop star, thanks to her "self deportation." In fact, the British singer Adele was knocked off the top spot in the U.K.'s billboard charts in March by Scherzinger, according to The Business Insider. Given rumors that Mariah Carey might be replacing her as host of the "X Factor" after only one season, Scherzinger might consider permanent "self-deportation" to the U.K.

Jaret Leto made a pretty big name for himself in the 90s for his role as Jordan Catalano in "My So Called Life." His band, however, "30 Seconds to Mars" had much better luck once they "self-deported." They've been recognized multiple times at the MTV Europe Music Awards and are very popular in Australia. Another instance where "self deportation" proved a good career move.