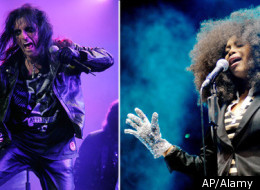 Bob Dylan's Sara was a "radiant jewel" -- famously "easy to look at" but "hard to define." The Beatles had their "lovely Rita"; Toni Basil obsessed over "Mickey" (to the frustration of middle school dance chaperones everywhere).
"Names are more than a collection of Latin root words and their attributes," says Margaret Eby, in the introduction to her new book "Rock and Roll Baby Names". "They're affected by the people who wear them and particularly by the way they're used in movies, television, books, and most, importantly, in music." Indeed, from Aretha and Adele to Beyoncé, Bono and beyond, Eby's field guide to musical monikers delivers inspiration to any parent intent on boosting his or her kid's rock-and-roll bona fides.
The dictionary sweeps from the '50s (Gertie, Wanda and Bo) straight through to the 2000s (Willow, Miley and Akon). She includes jazz nicknames (think "Dizzy" and "Count") and "names that make you want to sing" (like Lady Gaga's "Alejandro") -- and then there are the "names not even rock can redeem" (if you've named your child Pirkle, Purvis, or Werly, you'll want to skip this part).
We asked Margaret to nominate the wildest names rock and rollers have chosen for their own kids over the years. From Pirate and Chudney to Dweezil and Jermajesty, take a look at the oddities -- and vote for your favorites! -- below.
KORN's Jonathon Davis has a flair for bizarre name choices. Though his eldest son got away with the name Nathan, his youngest two children are named Pirate and Zeppelin, respectively. Those are pretty great names on the playground -- what third grader would cross a kid named "Pirate"? -- but may be problematic if either one of them wants to, say, become a lawyer. Pirate Davis, Esq.?

King of shock rock Alice Cooper named his eldest daughter Calico, an unusually feline choice for an infant girl. But are you really going to tell Alice Cooper what to do with his children's names? Yeah, me neither.

Fruit, last names, and places are all fair game for musicians' baby name choices, but fabrics go just a smidge too far. Toni Braxton named her oldest son Denim, making a variation on the spelling of Denham. Either way, it just sounds like blue jeans. Though it might still be better than his younger brother's name, Diezel.

Aretha Franklin combined her initials with her husband's to come up with this creation for her son's name, which is pronounced "kelf."

Devotion to your favorite band is a laudable thing, but sometimes it goes too far. Tool's Maynard James Keenan named his son Devo after the ziggurat hat-loving New Wave band. A cool gesture, but too close to the word "diva" for most little boys' liking. A previous image for this slide was misidentified by Getty as being Maynard James Keenan; it actually showed Billy Howerdel.

Jermaine Jackson was trying for a mashup between his first name and something with that royal ring to it, but his son's name Jermajesty sounds more like a slurred spelling error.

Sometimes, rock stars go for extra long names instead of simply short and weird ones. Heavenly Hiraani Tiger Lilly, daughter of INXS's Michael Hutchence, combines both those qualities. Though I'm sure she was a shoo-in for a part in her school's "Peter Pan" production.

"Cadence" isn't actually that bad of a musical name. It has a certain ring to it. But T-Pain's can-I-buy-a-vowel-please spelling of his son's name Kaydnz Kodah is probably going to make more than one nametag reader do a double take.

Meat Puppets lead singer Curt Kirkwood gave his son this mile-long name. We're guessing it's not going to be a particularly pleasant time at the DMV for Elmo trying to spell out all those middle names.

No wacky musician name list would be complete without the Zappa kids: Moon Unit, Dweezil, Ahmet, and Diva Thin Muffin Pigeen. Frank Zappa named Dweezil after a pet name he had for his wife's pinky toe. The hospital refused to give him the legal name Dweezil, so his actual registered name is Ian Donald Calvin Euclid Zappa, a string of names Frank listed from the top of his head. But young Dweezil liked his original name, and had it changed back.

Outkast's Big Boi reached beyond the standard plant inspiration to name his son Bamboo. You can hear him and Big Boi's other son Cross in the interlude "Bamboo" on the Outkast album Speakerboxxx. It's pretty cute, but not cute enough to follow Big Boi's lead, naming-wise.

Not that the other member of Outkast was any less zany when it came to naming his children. Andre 3000's son with Erykah Badu is named Seven.

Mariah Carey named her baby boy Moroccan not for the country, but for the interior design of the room she was in while Nick Cannon proposed. At least both he and his twin sister have the go-to nickname Moe. Awww.

Diana Ross's youngest daughter was supposed to be named "Chutney" but Ross liked this alternative, slightly less flattering spelling.

If your adopted name is Vanilla Ice, it's probably not surprising that you'd go an unconventional route for your daughters' names. But Robert "Vanilla Ice" Van Winkle went way beyond unconventional and straight into nuts when he named his little girls Keelee Breeze and Dusti Rainn. They sound like unfortunate tropical weather events.

Jay Electronica and Erykah Badu announced their daughter's name, Mars Merkaba, over Twitter back in 2009. She joined Badu's son Seven and other daughter Puma for a truly eclectic family roster. Planet, number, wild animal: Somewhere, someone just got bingo.

It's not unusual to go for a flower name for a little girl. There are so many good ones: Violet, Rose, even Daisy. But Sexy Spice Geri Halliwell went with the flower most associated with the family cow. Maybe she can just go by Blue, a la Beyonce's daughter. Twins!

Nikki Sixx isn't exactly one for subtlety. His children all have some seriously metal names: there's Gunner, Storm, and Decker. Who's going to mess with your family with names like that?

Duran Duran bassist John Taylor gave his little girl the first name "Atlanta" to keep with her other family members, who all had "A" names. "Noo" is short for John's endearment for his wife Amanda, "Noodlehead." Here's looking at you, Noo.

Speck Wildhorse is the most bizarre of John Mellencamp's baby name choices, but pretty much in keeping with his siblings Teddy Jo, Hud, and Justice. Er, colorful?