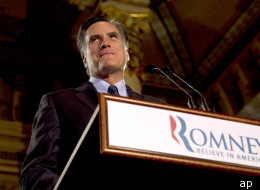 So, did you hear? This week, the GOP nomination pretty much became a settled issue. Barring some accident or emergency (or some freaktastic alchemical wizardry that his opponents have yet to deploy), you can pretty much pencil in Mitt Romney as your GOP nominee. Actually, you should have penciled that in a long time ago. If you have, go ahead and write over it in ink.
So now, all that matters is how soon the rest of the parties involved in this electoral process realize that part one, The Primarying, is over. President Barack Obama clearly has -- his campaign released its first anti-Romney ad, touching off what you should expect to be a very harsh and brutish campaign season. Newt Gingrich, while continuing to maintain that he'll be a presence in the GOP primary all the way to Tampa, briefly allowed reality to penetrate his skull, admitting that Romney is basically going to be the winner. And those "all the way to Tampa" plans? Well, they've gotten considerably more modest.
We wait now for Rick Santorum to decide what he's going to do. The presumption is that a religious man like Santorum likely knows what it means when big block letters appear on a wall. And he did decide, in the wake of his primary losses this week, to take a break. Special significances were attached to that decision. And then it came to light that Santorum was meeting in conference with conservative leaders in Virginia, to hatch a last-minute plan to wreck Romney. Those special significances followed him there. But in less than three weeks' time, Santorum -- should he decide to stay in the race -- will have to demonstrate that he can still win something. Those prospects are not looking good.
Besides, it says something that your best case scenario is one in which you get drubbed in New York, Delaware, Connecticut, and Rhode Island. But that's what's going to happen. The only variable for Santorum is whether he gets drubbed in Pennsylvania as well, and whether Santorum really wants to come out of this election cycle having had his ass kicked in his home state ... again.
But if Romney's a shoo-in at this point, he's probably going to learn very quickly that the mantle of inevitability can be weighing. After all, he hasn't exactly managed to set the world of conservatives on fire. The money quote of the week comes from MSNBC's Joe Scarborough:
Nobody thinks Romney's going to win. Let's just be honest. Can we just say this for everybody at home? Let me just say this for everybody at home. The Republican establishment — I've yet to meet a single person in the Republican establishment that thinks Mitt Romney is going to win the general election this year. They won't say it on TV because they've got to go on TV and they don't want people writing them nasty emails. I obviously don't care. But I have yet to meet anybody in the Republican establishment that worked for George W. Bush, that works in the Republican congress, that worked for Ronald Reagan that thinks Mitt Romney is going to win the general election.
Of course, no one but Joe Scarborough knows how good Joe Scarborough's sources are, but his salient point is an oft-repeated one: the establishment GOP is going to take to Romney like it's a forced marriage instead of a grand love affair.
But we urge caution, here. It is definitely possible to overrate the significance of these initial feelings of "meh" that the Republican elites and their base are demonstrating for Romney at the end of the primary season. There's a pretty great curative for that called the general election, and once this matter gets clarified into a Romney vs. Obama contest, you might be surprised who picks up the pom-poms for Mitt. Or not! The point is, we want to encourage you readers to be alert to all possibilities, rather than get blindsided when the March-April vintage of the conventional wisdom turns sour.
Besides, it's possible that Romney has this exactly where he wants it. You're going to hear a lot about Romney's tricky "pivot to the center," and what he stands to gain or lose. The conventional thinking, of course, is that he'll have to snap leftward, and when he does, he'll activate all the old agitation over his past moderate stances. But Romney's opponents have been warning all along that he's a squishy moderate. So much so that you'll hear plenty of reporters from now till November opining with a variation of Alex Altman, who observes: "A very conservative party is on the verge of nominating a relative moderate whom nobody is very excited about, largely because none of his rivals managed to cobble together a professional operation."
But Paul Waldman disagrees with this:
What we do know is that when he ran in two races in the extremely liberal state of Massachusetts, Mitt Romney was a moderate. Then when he ran in two races to be the Republican nominee for president, Mitt Romney was and is extremely conservative. There is simply no reason—none—to believe, let alone to assert as though it were an undisputed fact, that the first incarnation of Romney was the "real" one and the current incarnation of Romney is the fake one.

Every single issue position that might mark Mitt Romney as a "relative moderate" is something he has cast off, whether it's being pro-choice, or pro-gay rights, or not hating on immigrants. If you're going to say he's a relative moderate, you have to explain how the Massachusetts Romney was an expression of his true beliefs, and the national Romney is the product of cynical calculation, and how you know this to be the case.
It's actually pretty intriguing, the way Romney could be poised to turn his greatest liability -- ideological pliability -- into a strength. If conservatives observe Romney taking conservative positions, that could make Romney more endearing. If moderate voters keep hearing Romney described as a moderate, from reporters and critics, they'll could lose their fear of his extremes. And if he's nakedly cynical about the process, where's the harm? There are plenty of voters for whom an extremity of cynicism in an effort to defeat Obama is no vice.
We are, as always, prepared to be wrong. But we think that the general election is going to be closer than most people expect, less conforming to convention than most people imagine, and just as ugly as most people fear.
For more on the slow transition from the primary season to the general election, and all your news from the trail this week, please feel free to enter the Speculatron for the week of April 6, 2012.
The 2012 Speculatron Weekly Roundup, April 6
On one level, this week could not have been better for Mitt Romney. By putting the hammer down in primaries in Washington DC, Maryland and Wisconsin, he added to his plump delegate total and has all but put the nomination out of reach for his opponents. The added bonus in Wisconsin came in the form of an endorsement of Representative Paul Ryan, the sentient hairstyle that's come to be symbolic of the legislative ambitions of the GOP establishment. And now that the polls show him surging ahead in Pennsylvania, it looks like he'll manage to block the only avenue Rick Santorum has to mount anything that might resemble a comeback. So Mitt Romney turns out to be great at primaries! It's the whole "general election" thing that seems to be tripping him up. RNC Chairman Reince Priebus is doing his best to pretend that the gender gap Romney currently faces is just something that the media made up with mirrors and vapor, but the problem is that it's very real -- you can literally count up women in polls and find that they are none too happy with Mitt. And beyond that, there's an overall "enthusiasm gap" that Romney is going to have to surmount: according to a poll by the Economist/YouGov, "just 11% of Republican voters would be excited if Mitt Romney became the party's presidential nominee." That needs to improve if Romney wants to have an army of citizens willing to make phone calls and knock on doors in the fall. (It should be pointed out that this lack of enthusiasm is not shared by the financial industry, which keeps Romney's super PAC swollen with money.) One thing seems clear, First Read reports -- Romney could really benefit from Santorum dropping out now: "In his Q&A with the newspaper editors yesterday, Romney expressed his desire for the GOP primary season to come to an end -- ASAP... And this is now Romney's immediate challenge: How does he convince Rick Santorum to get out, preferably before the April 24 Pennsylvania primary?" "Consider: If Santorum remains in the race, and if Romney wants to win Pennsylvania, Team Romney is going to have to go negative (as we saw in Michigan, Ohio, and Wisconsin), and that will only drive up Romney's own negatives, as well as make it harder to unify the party for the general. But if the Romney campaign doesn't go negative, it's very possible to see how Santorum ends up winning in Pennsylvania -- and possibly some of the later contests in May (North Carolina, Arkansas, Kentucky, and Texas). And for Romney, having the inevitable nominee lose primary races is never a good thing. Given these two scenarios, convincing Santorum to get out now is probably their preferred. But how do they achieve that?" And Romney needs to wake the GOP establishment from its overall despondency over his candidacy. But we'd caution people against taking too much stock in these April mood swings -- once Romney is officially the nominee, choices get clear and lines get drawn as Romney and Obama attempt to define themselves ... and each other. So what we know of "enthusiasm" at the moment could well change. Beyond that, Ezra Klein makes a good case that everyone is underrating Romney at the moment: For the last, oh, six years, Mitt Romney has been running in Republican presidential primaries. Those are, arguably, the elections he's least suited to win, for all the reasons listed above. But now he's about to get a shot at a general election. And while the promises he's made and the positions he's taken will surely make it more difficult for him to swing to the center, he'll nevertheless be able to run a very different kind of campaign going forward. Maybe he'll be better at it. And it's easy to imagine his greatest weakness in the primary -- the fact that conservatives believe he's a secret centrist -- becoming his greatest strength in the general. In the end, we don't know what's written on Romney's general-election Etch a Sketch. Let's remember that when it comes to making a "pivot to the center," it's Romney's opponents who have made that pretty easy. They've been saying all along that he's a "moderate," after all! But, about that pivot! So far, it's not clear that Romney is prepared to give the base what it wants. He's back to asserting his role as that of a tinkerer-manager, not someone who wants a lot of transformative change... and the GOP base is not lacking in hunger for transformation. And his economic argument is necessarily having to shift from one that paints Obama as the author of rack and ruin, because the economy is -- in fits and starts -- on the upswing. So Romney's got to make the case that the fits and starts could have been avoided. This is a more ephemeral argument, and thus harder to make. (Though Obama is going to be largely making an ephemeral argument of his own.) It doesn't help matters that Romney surrogates are still publicly talking about how his "real views" on matters various and sundry have not yet been made available for public scrutiny. Everyone involved in the Romney campaign has apparently decided that they'll go on saying out loud all the cynical political things that are supposed to be whispered in private. In fact, it seems that what Romney really wants to do is take the criticism that's long been heaved in his direction and see if any of it will stick to Obama: In a new tactic...Mitt Romney has decided to accuse President Obama of being too vague in his plans for a second term. Once you get past the absurdity, there's something meaningful going on. But first, to Mitt's charges: "Nancy Pelosi famously said that we would have to pass Obamacare to find out what was in it. President Obama has turned that advice into a campaign strategy: He wants us to re-elect him so we can find out what he will actually do. With all the challenges the nation faces, this is not the time for President Obama's hide and seek campaign." Riiiiight. This probably seems to you like a weird accusation to make. After all, Obama's plans for a second term seem pretty clear: more of the same! You may think that'd be great, or you may think that'd be a hellish nightmare, but either way it's not like it's some big mystery. It isn't as though he's going to come out and really shock us with some new policy turn that is totally different from the kind of things he's been doing for the past three years. But that's what you think only if you don't reside deep in the heart of the Republican base, which is where the key to this appeal lies. Weighing what Obama has actually done against the specter of what he might do if he's re-elected (alongside a Congress that will probably feature GOP majorities in both Houses, but -- uhm...nevermind, we guess?) is causing Romney to speak the language of kooky contradictions. As Jonathan Chait observed: Watch Mitt Romney attempt to simultaneously assail Obama for his brutal plan to cut Medicare and for having no plan to cut Medicare: "I'd be willing to consider the president's plan, but he doesn't have one. That's right: In over three years, he has failed to enact or even propose a serious plan to solve our entitlement crisis," Romney said in a speech to the Newspaper Association of America in Washington, D.C. "Instead, he has taken a series of steps that end Medicare as we know it. He is the only president to ever cut $500 billion from Medicare. And, as a result, more than half of doctors say they will cut back on treating seniors." Obama's nonexistent Medicare plan will cut hundreds of billions from Medicare! In order for Romney to make this bit of obfuscation work, of course, it will require the political media to be either incompetent at pointing out basic contradictions or unwilling to do so because a "lie" told in a "horse race" is just an "interesting point of view." SPOILER ALERT: This is EXACTLY what the political media is like, which is why Romney can get away with criticizing Obama for spending "too much time at Harvard," when Romney himself spent more time getting more degrees from Harvard, and is running a campaign shot through with advisers and donors from Harvard. (Harvard and Bain Capital have a rich history as well.) What Romney has failed to learn from Harvard, evidently, is some elementary common sense. How else to explain his inexplicable call for Obama to "release the notes and transcripts of all his meetings with world leaders so the American people can be satisfied that he's not promising to sell out the country's interests after the election is over." Isn't that Julian Assange's job? Could you even imagine a president being willing to do this? The DNC turned this into a fast-break lay-up: "For example, does Governor Romney think we should release all the notes and transcripts of the President's conversations with our allies, such as the Israelis and Europeans, tipping our hand to Tehran about every last element of our strategy to prevent Iran from getting a nuclear weapon? Our friends around the world need to trust that they can speak with the President of the United States in confidence, and that these conversations will not be politicized during an election...It is yet another indication that Mitt Romney is not ready to be Commander-in-Chief." And while the DNC inquires after Mitt's brain, voters on the stump have apparently been beseeching Romney to provide evidence that he has other internal organs common to the human race. As Caroline Bankoff reports: At a recent gathering in Ohio, a voter stood up to tell the candidate, "I'd like you to share with all the American citizens that are watching right now ... to show the American people that you have a lot of heart." (They really don't know, do they?) These people apparently want Romney to be freer with personal details and life stories, preferably ones unlike Wednesday's humorous tale about how his father laid off a bunch of auto workers. Ann Romney is trying to help with the whole humanization-of-her-husband thing, responding to complaints of Romney's stiffness by saying, "I guess we better unzip him and let the real Mitt Romney out because he is not!" This sort of made us tremendously uncomfortable, to be honest with you! And it surely didn't help that Romney's favorite surrogate, Donald Trump, has seemingly embraced this "let me unzip the real me" line and taken it in the most extreme direction possible.

So is Rick Santorum going to drop out of the race? Is he? Come on, man! Surely after losing the Wisconsin Primary, Santorum recognizes the inherent hopelessness of his candidacy, right? It all depends, as Jonathan Bernstein points out, on "what he's after": Suppose that Santorum's main goal at this point is either a Cabinet position or, if he's lucky, the VP slot. In that case, the main constituency he cares about is very narrow: He wants to keep Mitt Romney happy. The best path, obviously, is to drop out and endorse the nominee. On the other hand, what if Santorum wants a good slot on Fox News, or a syndicated national radio talk show, or big book sales? In that case, the additional exposure of staying in the race as long as possible is the way to go -- unless the pressure to drop out begins to threaten those goals. Note that we have no idea (as far as I know) how this works: If Republican Party actors are unhappy with someone, can they cut off those kinds of opportunities? Santorum has famously declared it to be "halftime" in the race, and is looking at contests in Pennsylvania and Texas for life-sustaining results. Of course, the problem is that he's losing his grip on Pennsylvania. As the likely second place finisher in 2012, Santorum could potentially earn the coveted "next in line" slot for the next election cycle. But the knock on him now is that he was defeated, brutally, in his last electoral homestand. It's not clear that his political future can survive a second beatdown in the Keystone State. One thing that Santorum opted to do in the wake of this week's primary defeat was to take a break from the campaign trail, and in so doing, he drove up speculation that he was going to do one of those long, dark teatimes of the soul that leads one to quit the race. However, Santorum insisted that he was taking time off solely to observe the Easter holiday -- the five days immediately following Tuesday's primaries are some of those most important Christian holidays, especially to observant Catholics like Santorum. [UPDATE: Also contributing to Santorum's time away from the stump is the news that his daughter, Bella, has been hospitalized. Your Speculatroners wish the Santorum family the best and spur wishes for Bella's recovery along in their direction.] Of course, it's not even clear that Santorum really is taking a break. Apparently, he's having some secret meetings with conservative leaders about how Mitt Romney can possibly be stopped at this point in the race. The idea that seems to have percolated out of these klatches is a Santorum-Gingrich team up. We'd advise everyone to take a short position on the likelihood of such a pairing panning out. Barring the possibility that these conclaves yield a secret weapon in the war against Romney, what should Santorum do? The First Read gang suggests that Santorum should be proud of what he's accomplished, the underlying message being that persisting could put those achievements at risk. The National Review's John J. Miller makes this argument, saying that Santorum can either "be the guy who ran an amazing campaign, confounded the expectations of just about everyone, and came in second -- or he can be the loser who didn't know when to quit." But his colleague, Quin Hillyer, is still rebelling against the Romney campaign's "death star," and urging Santorum to stay in the race and find the game-changing stunt that's necessary to win: Santorum so far has used an amazing alchemy to do as well as he has. He has over-performed by a greater degree than any presidential candidate since 1976. All credit is due to him and his team. But they need an attention-grabbing, game-changing gambit now. Otherwise, Romney will be the nominee -- and conservatives again will have been told to sit in the corner and shut our mouths. We're not sure that Santorum has a "gambit" that could turn the tide of the race, but it's worth pointing out that Hillyer's hopes may not be in vain. In Wisconsin, Santorum left behind a particularly brutal attack on Romney, made in his most recent ad: At the beginning of the 30-second spot, a narrator walks on to the screen pointing at a photo of Obama: "What if I told you this man's big government mandating health care included $50 abortions and killed thousands of jobs, would you ever vote for him? What if I told you he supported radical environmental job-killing cap and trade and the Wall Street bailouts? And what if I told you he dramatically raised taxes and stuck taxpayers with a $1 billion shortfall?" "One more thing, what if I told you the man I'm talking about isn't him," the narrator says as a photo of a grimacing President Obama flashes on the screen and then dissolves into a photo of Romney. "It's him." This message might be more effective than the Wisconsin results suggest. As Dave Weigel points out, Santorum nearly made up the ground he lost to Mitt in the state: There were polls showing the perpetual loser as far as 10 points behind Romney in Wisconsin. He lost by 5. The secret: a 42-38 winning margin with the 36 percent of voters who decided "in the last few days." Of course, this means that Romney backer John Sununu might end up being wrong when he suggests that it's Santorum's "softness" that will keep him, potentially, from earning a spot on Romney's ticket. It could actually be his harshness. At any rate, Santorum's said that he'll drop out of the race when it's time -- and that "time" will be when Romney notches the 1,144 delegates he needs to win. Which is some proud talk. We'll see if it survives if Santorum is defeated in Pennsylvania.

The Economist pretty much summed up Newt Gingrich's strange campaign with artful deftness this week: "Just what he has been trying to do was never quite clear. At times it has seemed like he was trying to get elected president." Exactly. It's been a few weeks since the media gave up on Newt Gingrich as a real-live candidate for president, but as Dave Weigel reports, the Gingrich campaign isn't acting too sniffy about it in public. Gingrich spokesman R.C. Hammond -- one of the survivors of the recent staff purge -- says the loss of print embeds is having "absolutely zero impact," and that there are always plenty of media types around to talk to. Of course, the media seems to now be covering the Gingrich campaign in the way it probably should have in the first place -- as a geek show. Per Weigel: Let's start by admitting that Gingrich will not win the nomination, and that the former speaker of the House who resigned under pressure and then married his mistress was probably not going to run away with this thing. The campaign question is no longer "Can Gingrich win?" It's "When does Gingrich have to drop out?" He says he doesn't, because he can still get the sort of attention he needs. And if we define "need" narrowly enough, he isn't wrong. For now, at least, he still has the attention of embedded TV reporters, though not "because there's a high likelihood he'll be president," said Ron Fournier, the editor-in-chief of National Journal. (The magazine has a partnership with CBS News.) "There is a high likelihood he can do and say things that affect the race. Both he and Santorum are capable of making news." So that's what the "Gingrich candidacy" is right now -- a movable teapot, out of which minor, news cycle-rattling tempests still, from time to time, swell. Meanwhile, on the real side of things, Gingrich remains a complete non-factor in the primary elections. And things are starting to go south for Gingrich outside the realm of the campaign. This week, Newt's super-duper health care think tank, the Center for Health Transformation, filed for bankruptcy. How is this possible, considering it must have been a highly influential hive of cutting edge conservative health care transformation ideas that have been valuable to American life since it was created? Maybe it's because the think tank "came under criticism from conservatives after recordings surfaced of [Gingrich] touting the Affordable Care Act's individual mandate in a call with health care clients from May 2009." That's just the sort of thing that might turn off conservatives -- at least after, say, 2009. Or maybe it failed because Gingrich tends to have a Midas touch, only in reverse, with these things. Naturally, Gingrich is still mostly saying that he intends to stay in the race until the convention in Tampa. But lately, it seems that when the wind is blowing in a certain direction, he seems to know a hawk from a handsaw. This week, he managed to briefly concede the fact that Mitt Romney is the definite front-runner and likely to be the nominee. And Byron York reports that Gingrich's aims have become more modest with the passing of time: Strapped for cash and struggling to stay in the game after a series of losses in Southern states he thought he could win, Gingrich has in the last few days come up with a strategy to "redirect" his campaign. He will continue to travel -- "less expensively" -- to some primary states and will not quit the race until Romney reaches the number of delegates required to clinch the Republican presidential nomination. But Gingrich says he will now focus his efforts on persuading GOP delegates to adopt a series of platform proposals that will hold Romney to conservative positions. "The delegates are well to the right of Romney," Gingrich says. "That doesn't mean they necessarily want to buck Romney, but I do think they may well say to Romney, 'It would really be good for you to run as a genuine conservative.'" "Does this guy run on an actively conservative platform?" Gingrich asks, "or do they in fact try to run on an Etch-A-Sketch blank slate platform? I don't think he'll have any support in the conservative movement unless he accepts a conservative platform." In other words, Gingrich could get behind Romney if he would be willing to refashion himself in Gingrich's image -- which we guess means he'd wave around "$2.50/gallon" placards and talk glowingly about moon colonies. Could Romney sufficiently transform himself to Gingrich's liking? Well, let's face it, Mitt Romney has been, at various times, different people entirely.

Ron Paul, who in recent primaries has more or less fallen back to earth, turns his attention this week to the upcoming primary in California, where there are apparently a lot of college students who are like, totally into Ayn Rand, and Skrillex, dude! And they will be coming to big Ron Paul rallies in droves. And then, hopefully maybe voting -- there was some speculation that Paul's numbers were down in the Wisconsin primary because his entire base was on Spring Break. On the other hand, it may be that "Ron Paul's epic rallies do not lead to votes." Or so reports the Boston Globe's Garrett Quinn, for the benefit of everyone who didn't already read Alex Pareene talking about the same thing a week ago. But look, people, Ron Paul has a larger cause, which he shared with CBS' "Face The Nation": On the program, Paul vowed to stay in the race. highlighting his large following of college students and young people, and said he will continue his work to refocus the Republican Party. "There's no way I'm going to give up on the effort to get the Republicans back to their roots," Paul said. "The truth is, I'm trying to save the Republican Party from themselves because they want perpetual wars; they don't care about presidents who assassinate American citizens; they don't care about searching our houses without search warrants," Paul said. And don't expect Paul's reputed "alliance" with Mitt Romney to translate into an eventual endorsement should Romney, as expected, become the GOP's standardbearer: When host Bob Schieffer asked Paul if he would support Romney should he clinch the nomination, Paul declined to commit to backing the former governor. "I haven't made that decision yet; I'm still campaigning," Paul said, but admitted that he has "too many disagreements" on policy. Regardless of how Paul's 2012 candidacy turns out (SPOILER ALERT: it will "turn out" that he didn't win the nomination), he can still take pride in one thing -- he made a bunch of really awesome ads! Paul recently won something called a "Pollie Award" that is administered by the American Association of Political Consultants (AAPC), which apparently exists, and also "recognizes innovative political advertising": AAPC judges recognized the Paul campaign and its ad consultant Jon Downs of FP1 Strategies for Paul's overall ad strategy, awarding them the 2012 Gold Award for TV/Radio Campaign -- Republican. Particular honors bestowed the Paul campaign are the Bronze Award for Best Use of Negative Contrast -- Republican; an Honorable Mention for Radio in a Presidential Primary for its ad 'Life'; the Gold, Silver, and Bronze Award for Television in a Presidential Primary for the ads 'Big Dog,' 'Serial Hypocrisy,' and 'Conviction,' respectively; and the Gold Award for Best Use of Humor -- Republican for 'Big Dog.' Paul spokesman Jesse Benton said that the campaign was "proud of the recognition" for ads that apparently have managed to "cut through the noise and clutter of better-funded campaigns and multimillion-dollar Super PACS and pushed Dr. Paul's winning message to historic finishes in Iowa, New Hampshire and beyond" without anyone but the AAPC really noticing that this was happening.

Honestly, there does not seem to be any new news about Buddy Roemer this week. Follow him on Twitter, we guess? He wants money out of politics! Activity should pick up in the days to come, as he has a planned speech at Tulane University (on "the corruption in D.C, money in politics, and his Presidential race") this coming Wednesday and will be hanging out with Red Sox fans at a sports bar near Fenway Park after the Sox play the Tampa Bay Rays on April 13.

Fred Karger spent most of last week wrapping up his campaign in Maryland, where he did not fare well in this week's primaries. Nevertheless, as Hometown Annapolis reports, Karger's pretty much determined to wring a positive experience from this: Full of enthusiasm, Karger is clearly having a ball running for office, even if he isn't making much headway. He finished dead last in Maryland's GOP primary on Tuesday, earning just 348 votes for a paltry 0.15 percent. "It's been quite an experience, quite a journey ... It's an incredible experience we're afforded in this country," he said. The Huffington Post had the opportunity to spend some time with Karger last week, as he was the special guest on our primary night livestream coverage, and can confirm that he is committed to running an optimistic campaign. Which isn't to say that he can't be critical of a process that ended up excluding him -- along with Buddy Roemer and Gary Johnson (who Karger has gotten to know during the campaign and with whom he has forged a fellowship) -- from debates. And fighting for the dignity of the LGBT community remains foremost in his heart. The recent disclosure of secret memoes from the National Organization for Marriage (NOM) by the Human Rights Campaign has given Karger a shot of adrenaline in a fight he hopes to win. The most showy revelation from those documents was the way in which NOM planned to drive a wedge between the black and LGBT communities. But while Karger happily decried the cynical politics, he maintained that the real action in the battle against NOM is how it is using money. I have been tracking the National Organization for Marriage (NOM) for the past four years trying to find out all that they are secretly doing to fight marriage equally throughout the United States. Thanks to the hard work and extreme dedication of the Maine Ethics Commission and State Attorney General's office we are able to get a glimpse into NOM's evil ways. NOM's contempt for the law and manipulation of the truth appears to show intent to violate state and possibly federal election laws. I have long and loudly called for a Congressional or U. S. Senate investigation of the National Organization for Marriage. Now it is absolutely necessary. Karger now wants his fellow candidates to disavow NOM. It's a pretty tricky situation, considering the fact that another exciting disclosure from the world of NOM last week was the news that Mitt Romney had donated $10,000 to the organization. With the Maryland primary behind him, Karger is now looking ahead to competing in his home state of California. There, his name will appear on the ballot with the other four remaining candidates, and on that ballot, Karger will be identified as a native son of the Golden State, which he hopes will make some difference. Of course, now that Karger has appeared as a special guest on the Huffington Post's Primary Night Livestream, the sky is the limit!

Gary Johnson has spent the first few weeks of his switch to the Libertarian Party on the ground, criscrossing the United States in an effort to get his profile established with the Libertarian Party types he needs to square away his nomination officially. That lo-fi retail campaign hasn't been a bust -- last week, polls had him nabbing 7 percent of the vote in a three-way general election. That's not bad, but his ultimate goal is to earn his way into this autumn's debates, and he needs to more than double his poll standing to get there. So this week, Johnson took the opportunity to start to enlarge his footprint, with appearances in the national media. He went on the Dylan Ratigan Show, where he got to talk about what it's like to have a hybrid political philosophy in a race that features two monolithic parties. Running nationally, Johnson says, is not like running in New Mexico, where he got used to a "very inclusive process." To Johnson's mind, the average American would embrace some change if they had a chance to be exposed to it. As Craig Schlesinger of the Nashville Libertarian Examiner reports: Gov. Johnson also maintains that most Americans, broadly speaking, favor a government whose policies are fiscally responsible and socially tolerant: "It's ok to have that philosophy; I have that philosophy. I think libertarian politics [embrace] that policy. But you've got to identify the problems, you have to identify the solutions to the problems, and then you have to have a resume that actually suggests that you can go and doggedly pursue that agenda." Johnson told Ratigan, "I really do think libertarians embrace the best of both parties, but we'll see. We get to put this to the test." Ratigan affirmed this, calling Johnson "the function of a micro-culture of what we wish existed nationally." Johnson followed that up by making an appearance on "The Colbert Report," where he made the case that his ideas weren't something extracted from the kook stewpot: On the show, Johnson discussed he is for marriage equality, which is something neither Obama or Romney support. He also discussed medicinal marijuana should not be illegal, which is also something neither Obama or Romney support. Johnson stated he was going to balance the federal budget and get out of Afghanistan. On that latter score, Johnson may end up being the only candidate in the general election who's willing to meet widespread fatigue with the War in Afghanistan with an explicit promise to bring it to an end: "Get out tomorrow," Johnson said in an interview with POLITICO. "We should have gotten out of Afghanistan 11 years ago. Eleven years ago! Romney is saying we should stay in Afghanistan until the mission is accomplished. What does that mean?" Obama, on the other hand, has "doubled down" on an unpopular and directionless war, Johnson said. What's more, he warned that the White House could try to gain electoral points with a strike on Iran before the November election out of a "political calculation ... that bombing Iran shows strength." And just to show that Johnson is semi-engaged with the horse-race -- at least engaged enough to say the sort of thing that can generate a headline or two -- he threw shade on the vice-presidential prospects of the woman who succeeded him in the New Mexico statehouse, Governor Susana Martinez: "This is a Sarah Palin-esque kind of choice. She's served as governor of New Mexico for about the same amount of time...I think there were lessons learned [from 2008.]"

The big news out of the White House this week was the Obama administration's battle to preserve the Affordable Care Act, which at this point essentially amounts to little more than a broad public relations campaign, as the actual time for legal arguments to be made has lapsed. So what is President Barack Obama doing to fight this war? Basically, he's reminding conservatives of their own definition of judicial activism. Conservatives have not taken this reminder very well! As our own Mike Sacks explained at length, the critical step that the president took this week was to invoke a 1905 Supreme Court case, Lochner v. New York, which Sacks notes is the "legalese equivalent of brandishing a cross before a vampire." Lochner. It's a name familiar to lawyers, but barely known to the general public. Referring to a 1905 Supreme Court case, Lochner v. New York, that struck down a state law capping bakers' weekly hours, the epithet harkens back to an era, stretching roughly from the 1890s through the 1930s, when a conservative Supreme Court struck down liberal economic regulations at the state and federal levels. [...] And President Obama, a former constitutional law lecturer at the University of Chicago, knows full well that no justice, spare Clarence Thomas, wants to be grouped with discredited predecessors who read laissez-faire, Social Darwinist policy preferences into the Constitution to thwart the will of the people on issues ranging from minimum wages to child labor. Alex Pareene rounds up the fits that were quickly pitched: Of course, the Republican talking point is that the president is attempting to bully the Court into ruling the way he wants. (Because if they strike down the law, he'll ... yell at them during the State of the Union again? No one seriously predicts an arrest warrant for Chief Justice Roberts here.) Mitch McConnell: "This president's attempt to intimidate the Supreme Court falls well beyond distasteful politics; it demonstrates a fundamental lack of respect for our system of checks and balances." Lamar Smith: "What is unprecedented is for the president of the United States trying to intimidate the Supreme Court." Mike Johanns: "What President Obama is doing here isn't right. It is threatening, it is intimidating." (Did you notice how everyone used the word "intimidate"? That's because they got their language from a memo.) Pareene adds that "pointing out" the fact that the "court is completely unaccountable and ridiculously powerful" is not exactly the makings of a "constitutional crisis." And we'll remind you that the GOP's own presidential candidate, Newt Gingrich, has all but gotten a pass for the extremity of his anti-judiciary position, which involves bona fide intimidation: Gingrich says that, if elected president, he would be free to ignore the Supreme Court and abolish entire federal court systems if he disagrees with their rulings (that means you, 9th Circuit). Under Newt's reign, judges could be impeached, subpoenaed, and even arrested by U.S. Marshals if their rulings were deemed "anti-American" by the Gingrich administration. So, let's not confuse mere criticism with a call to bloodletting! At the same time, let's recognize the Obama administration's own battle with SCOTUS for what it is -- a call to political arms. After all, at this juncture, it seems likely that the justices are going to tune out the admonitions of Affordable Care Act advocates and render whatever decision they choose to render. This isn't the only "rally-the-base" call coming from the incumbent. Obama also assailed the Paul Ryan budget plan at length: "Disguised as deficit-reduction plan, it's really an attempt to impose a radical vision on our country. It's nothing but thinly veiled Social Darwinism. It's antithetical to our entire history as a land of opportunity and upward mobility for everyone who's willing to work for it -- a place where prosperity doesn't trickle down from the top, but grows outward from the heart of the middle class. And by gutting the very things we need to grow an economy that's built to last -- education and training; research and development -- it's a prescription for decline." Of course, the Obama administration has opposed Ryan's plan for a glorious new Panem version of America all along, and, for the time being, the White House can even veto it, if necessary. What brings the extra wattage this week is, of course, Ryan's embrace of Obama's likely opponent, Mitt Romney, and the Democrats' desire to tie Romney to Ryan's unpopular proposals. Of note: Obama this week re-invoked the whole "end Medicare as we know it" talking point, that has so mightily confused the poor ol' cottonheads at Politifact lately. His campaign has also, at long last, launched an anti-Romney ad. The overall message is, regardless of what Rick Santorum hopes to do, Team Obama Re-elect has accepted Romney's nomination as an impending reality. Speaking of! This week, Obama officially secured the Democratic nomination for president, ending no speculation at all that he might be defeated. Does this mean that Obama will now begin his "pivot to the center?" Actually, yes, it does!
[Would you like to follow me on Twitter? Because why not?]