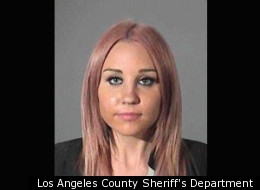 UPDATE 1:51 PM: Bynes was released from jail in West Hollywood at 10:30 AM PT, TMZ confirms.
UPDATE: Bynes reportedly sideswiped a cop car, prompting authorities to pull her over, TMZ has learned.
PREVIOUSLY:Amanda Bynes was arrested for DUI early Friday morning in West Hollywood. TMZ reports that the 26-year-old former Nickelodeon star is still behind bars after being taken to jail following her 3:00 AM arrest.
Gossip Cop confirms reports detailing Bynes' arrest.
Although the actress has recently fallen off the radar when it comes to public appearances and TV/movie work, she has been quite the familiar face for authorities. Just last month, Bynes was pulled over by Los Angeles police for using her cellphone while driving.
Bynes' bail is reportedly set at $5,000.
Click over to TMZ for more breaking details.