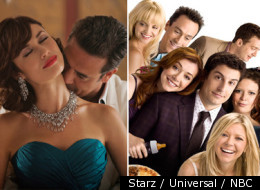 High school reunions, you either love them or you hate them. Sure, the idea isn't so bad -- getting to hang out with all of your old high school friends for one night -- but the actual reunion can be, well, just plain awkward. Hello, "American Reunion."
After three feature films and a handful of dreadful straight-to-DVD movies, "American Reunion" is the last chapter of the "American Pie" franchise.
Although the crew is back for their high school reunion, according to the San Francisco Chronicle, things haven't really changed. It's the same crude humor, the same sex and yes, the same Stifler (Seann William Scott). "The entire film is a mistake," wrote critic Amy Biancolli.
Meanwhile, the small screen isn't safe either, as NBC's "Best Friends Forever" and Starz's "Magic City" both fell flat with TV critics.
HuffPost Entertainment has rounded up the week's snarkiest reviews just for your enjoyment in this week's installment of our "Week In Ouch" series.
This week, critics from Entertainment Weekly to The New York Times and HuffPost TV were left shaking their heads and sharpening their critiques. Even PETA couldn't hold back their tongues when it came to Kanye West's new track, "Theraflu."
Let us know which films, albums and TV shows you think deserved the harsh critiques, and which ones you think critics should ease up on in the comments.
Hanging out with you best friend forever should be fun, but for TV Guide's Matt Roush NBC's new sitcom "about as fun as a multiple hernia operation." Best Friends Forever is a low-rent disaster that should never have seen the light of prime time. There are characters you love to hate, and then there's the hateful Jessica (the unbearably shrill Jessica St. Clair), a blonde Medusa who turns every punch line to stone.

New Starz drama "Magic City" has a lot of what HuffPost TV's Maureen Ryan calls "H.B." -- which is short for "Hey! Boobs!." But the boobs aren't "Magic City's" only problem. If "Magic City" had done one thing consistently, it's managed to make smoking, drinking, sex, mobsters, criminal activity and carousing kind of flat and listless ... Everything about "Magic City" shows a lack of depth, and the pacing is almost glacial.

More than 10 years after the first "American Pie" film hit theaters, the crew is back for their high school reunion, and it looks like things haven't changed. It's more than just the same people, same crude humor and same sex -- it's practically the same movie. That is, according to the San Francisco Chronicle. Then again, the entire film is a mistake. Jon Hurwitz and Hayden Schlossberg ("Harold & Kumar") direct with a bluntness, witlessness and sloppiness that only brings out the chasmal vacancy of the script, in which nothing happens and no one seems to be having any fun.

There are plenty of lines from Kanye West's "Theraflu" that have people talking, but one in particular is getting West into some hot water with PETA. Before his many Kim Kardashian references and his dig at Kris Humphries, Yeezy says, "Tell PETA my mink is draggin' on the floor." Needless to say, PETA is not impressed. What's draggin' on the floor is Kanye's reputation as a man with no empathy for animals or human beings. He's a great musician but doesn't seem to have the fashion sense to design anything more than caveman costumes. We keep hoping that one day he'll find his heart and join evolved style icons -- including Russell Simmons, Pink, and Natalie Portman -- who have dropped animal skins.

Some people just don't get fantasy dramas, and Neil Genzlinger, of The New York Times, seems to be one of them. There are just too many kings, and sadly, none of them are Ned Stark. We're sad too, Neil. So the question for HBO as Season 2 begins on Sunday is this: Who is going to replace Ned as a focus of the series? The answer, at least four episodes in: no one. The new season of this dense medieval fantasy set in a land called Westeros serves up a whole bunch of wartime posturing, a seemingly endless number of would-be rulers and the usual sex and (sometimes in the same scene) violence. But it sure doesn't give viewers much to latch onto.

Is this 1961? Or 2012? EW.com's Lisa Schwarzbaum can't seem to figure out which era this quirky hipster film belongs in. Whatever imaginary era writer-director Whit Stillman has in mind, the customs he explores in this wan, self-consciously talky little drama intrigue him more than they do his audience ... Gerwig can't make her character come alive, though, and neither can Adam Brody as one of their neediest male cases.

Is "30 Rock" losing its luster? Well, it's certainly losing its audience after this week's episode pulled in series-low ratings. Might it have something to do with its "strained, artificial energy?" According to the A.V. Club, yes. Looks like Tina Fey is asleep at the wheel. The show has been on the air forever. Exhaustion set in a while ago, yet the series carries on all the same. "Nothing To Lose" consequently possesses the strange quality of being at once tired and full of strained, artificial energy.

"Evita" is back on Broadway after more than 30 years, but according to Vulture's Scott Brown, this new "Evita" is anything but memorable. Is Madonna still available? Personally, I am among the unmoved, if not the unimpressed. Grandage's imposing new vision uses the Marquis's vast, cavernous tastelessness to suitably overblown effect ... But as for our hearts -- well, mine remained un-won. Roger doesn't do a lot of reaching out. There's a need and an eagerness to her Eva, but no seduction, no "star quality."