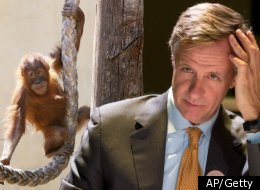 Gov. Bill Haslam (R-Tenn.) is facing a new round of pressure this week to veto controversial legislation that critics argue would open the floodgates to anti-science teaching in the state's public schools.
SB 893 -- known as the "Monkey Bill" by opponents who claim it's an anti-evolution bill that pays homage to the Scopes Trial-era -- is designed to protect teachers who allow students to question and criticize "controversial" scientific debates on topics such as evolution, climate change and human cloning. Haslam has said that he'll "probably" sign the bill after downplaying the opposition's concerns, but now he's hearing a chorus of complaints from across the state.
On Thursday, Haslam received a letter and petition with 3,200 signatures urging him to veto the "dangerous" measure.
"We believe this bill will send the wrong message to children," said Mina Johnson, one of the petitioners. "And also, as if, this bill will disguise denying otherwise scientifically proven fact."
Americans United for Separation of Church and State and the American Civil Liberties Union have also pressured Haslam to reject the bill, which they believe is an unconstitutional and unwise gateway for the teaching of creationism and intelligent design in public schools.
Hedy Weinberg, executive director of the American Civil Liberties Union of Tennessee, told the Wall Street Journal that the measure contained "very clever" wording designed to quietly "inject religious beliefs into scientific curriculum."
Proponents, however, have maintained that it's simply meant to encourage a diversity of opinions in the classroom.
"The idea behind this bill is that students should be encouraged to challenge current scientific thought and theory," said GOP state Sen. Bo Watson, the measure's sponsor, last month.
"Global warming, evolution, these can be controversial," Republican state Rep. Bill Dunn told the Wall Street Journal.
Haslam has until Tuesday to sign the bill, veto it, or allow it to become law without his signature.
Below, where the remaining GOP presidential candidates stand on evolution:
GOP Candidates On Evolution
Newt Gingrich has said he believes in both creationism and science, stating that he doesn't "think there is necessarily a conflict between the two." "I believe that creation as an act of faith is true, and I believe that science as a mechanical process is true," Gingrich told reporters in May. "Both can be true." He expressed similar views in a 2006 interview with Discover, where he said evolution -- which "certainly seems to express the closest understanding we can now have [of how we came to be]" -- should be taught in schools as a science and intelligent design should be taught as a philosophy.

Mitt Romney has said that while he believes God designed the universe, he also believes "evolution is most likely the process he used to create the human body." The former Massachusetts governor admitted that his beliefs are complex and was hesitant to explicitly support intelligent design. "I'm not exactly sure what is meant by intelligent design," he said. "But I believe God is intelligent, and I believe he designed the creation. And I believe he used the process of evolution to create the human body." Romney's beliefs date back to his years at Bringham Young University, where he was asked about evolution while being interviewed for highest honors designations before graduating. The New York Times reports: He told his interviewers that he did not believe there was a "conflict between true science and true religion," he said. "True science and true religion are on exactly the same page," he said. "they may come from different angles, but they reach the same conclusion. I've never found a conflict between the science of evolution and the belief that God created the universe. He uses scientific tools to do his work."

Rick Santorum -- who strongly opposes the theory of evolution -- took aim at rival GOP contender Jon Huntsman this week over his stance on evolution. Asked to define his own position on the issue, Santorum told the Philadelphia Inquirer in an email, "I believe in Genesis 1:1 -- God created the heavens and the earth. I don't know exactly how God did it or exactly how long it took him, but I do know that He did it. If Gov. Huntsman wants to believe that he is the descendant of a monkey, then he has the right to believe that -- but I disagree with him on this and the many other liberal beliefs he shares with Democrats. For John Huntsman to categorize anyone as 'anti-science' or 'extreme' because they believe in God is ridiculous." Santorum once proposed an amendment that would have forced the inclusion of intelligent design in public school curricula. WNYC reports: He also has his name tied to intelligent design: the "Santorum Amendment" to the 2001 No Child Left Behind Act would have forced public schools to offer the creationist perspective in science classes, and to call into question the scientific evidence supporting evolution. That amendment was rejected. In a 2005 interview with NPR, however, Santorum stated that he was no longer comfortable with intelligent design being taught in schools. But he did maintain his opposition to evolution, emphasizing that classroom focus should be on evolution's discrepancies. "I'm not comfortable with intelligent design being taught in the science classroom. What we should be teaching are the problems and holes and I think there are legitimate problems and holes in the theory of evolution. And what we need to do is to present those fairly from a scientific point of view," Santorum said. "And we should lay out areas in which the evidence supports evolution and the areas in the evidence that does not."

Ron Paul is a creationist who decried evolution publicly in December 2007 during a Q&A session at a meeting in Spartanburg, South Carolina. "I think there is a theory, a theory of evolution, and I don't accept it," Paul said. Paul said he thought it was "very inappropriate" for presidential candidates to be judged on a matter of science. He also defended creationism while saying that all sides of the creation debate have an element of uncertainty. "The creator that I know created us, each and every one of us and created the universe, and the precise time and manner," Paul said. "I just don't think we're at the point where anybody has absolute proof on either side."