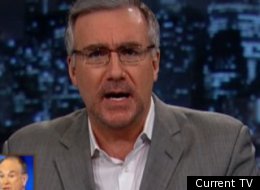 The war between Keith Olbermann and Current TV reached new heights on Friday after the network countersued its former employee.
On Thursday, Olbermann sued Current TV for breach of contract, claiming that the network owed him up to $70 million in cash and equity compensation after his termination last week. Current TV fired back against Olbermann and stated that the broadcaster's lawsuit was "riddled with falsehoods" and that he was not entitled to any money.
After reviewing both documents obtained by The Huffington Post's Michael Calderone, we leave you with the most revealing, shocking, and devastating statements in Olbermann and Current TV's war with words.
Statements from Keith Olbermann's lawsuit filed against Current TV:

1. Olbermann's production company is called Olbermann Broadcasting Empire, Inc.

2. Current TV co-founders Al Gore and Joel Hyatt are referred to as "dilettantes portraying entertainment industry executives."

3. The lawsuit states that Hyatt "attempted to isolate Olbermann from his professional representatives in an awkward attempt to form a close personal friendship with his new star. When Olbermann did not reciprocate Hyatt's advances, Hyatt reacted by withholding necessary production resources..."

4. Olbermann objected to Current TV hiring David Bohrman, the network's current president.

5. "Olbermann thought he had made a deal with a legitimate network and instead got an unprofessional cable-access show."

6. "It is both sad and ironic that a channel owned and founded by Al Gore, for the stated purpose of creating an independent perspective, free from the control of large corporate interests, restricted the rights of its most celebrated commentator and Chief News Officer to fully broadcast his opinons over, of all things, the internet."

7. Less than two weeks before Olbermann's show debuted on Current TV, Hyatt "summoned Olbermann to his office for a one-on-one meeting at which Hyatt identified that he was speaking on behalf of himself and Gore and threatened to cancel the Program based on an unconfirmed and inaccurate suspicion that Olbermann's manager had leaked information regarding the Agreement to The Hollywood Reporter...Hyatt blackmailed Olbermann into agreeing to put himself in a position that no other major talent in the entertainment or news industries has been forced into in decades: fending for himself without the benefit of hired advisors. Olbermann gave in to Hyatt's blackmail for the purpose of saving the premiere of the Program and the jobs of those who worked on it."

8. The lack of security for Olbermann at Current TV allowed for a homeless man to "wander off the street and into Olbermann's private office."

9. Olbermann told Hyatt and Bohrman that "he did not believe" hiring former MSNBC host Cenk Uygur was a "good choice." According to Olbermann, "Uygur had difficulty separating facts from things he wanted to be true." After Current created "The Young Turks," Olbermann declined "to be associated with a host with a questionable journalistic standard and a show that was not up to the standards expected by the 'Countdown' audience."

From Current TV's cross-complaint:

1. "On November 22, 2011, Current received a complaint from Countdown's studio landlord that: 'Keith created a potentially dangerous situation last night when he threw with full force a glass mug at the set hitting a solid part of it that caused the mug to shatter.'"

2. "In response to learning that a photograph of 'Countdown's' original set was disclosed to the press by the set designer, Mr. Olbermann wrote to Mr. Hyatt of the person who leaked the picture: 'Can you assassinate him please?'"

3. Current claims paying over $50,000 to eight different car service companies. The first seven did not meet Olbermann's "patrician standards for how to drive him around" New York City.

4. "When asked by Current's President David Bohrman about the purchase of a $5,300 desk for 'Countdown,' which was not discussed with or approved by anyone at the network, Mr. Olbermann replied: 'When you are prepared to act like an adult you are welcome to contact us again.'"

5. "In response to an email from a Current employee about complications related to Michael Moore's appearance on 'Countdown,' Mr. Olbermann wrote to Joel Hyatt: 'Give me a name so I know which of them to kill with my bare hands.'"

6. "Upon learning that Current would not match a salary offer from another television network to someone in 'Countdown's' booking department, Mr. Olbermann wrote to Mr. Bohrman: 'We can only conclude here that you have now moved from unjustifiable egotism and unparalleled incompetence, to outright sabotage of this program.'"

7. "Mr. Olbermann's subsequent re-writing of history that 'due to persistent throat problems [Mr. Olbermann] needed to take off March 5th to rest his voice and prepare for the [March 6] election special' (Complaint,~8) is nothing more than an immature, after-the-fact attempt to justify playing hooky and is plainly false."

8. "Mr. Olbermann's gamesmanship garnered considerable press attention, all of it negative for Current."

9. On the day of the 2012 Iowa Caucuses, Olbermann tweeted that he was "headed into the office" to prepare for his show. He later tweeted that he was "informed Countdown will not be on tonight...defer all questions to @JoelHyatt, @AlGore, @Curent." Current said that Olbermann was "fully informed" of the network's programming plans and tweeted that he was heading into the office to work on his show, "which he knew not to be true."