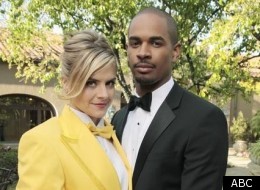 "The Voice" kicked off live shows, with host Christina Aguilera appearing in a stunning, curve-hugging dress. That wasn't the only fashion "do" of the week: The nostalgic "One Tree Hill" series finale saw Haley and Brooke clad in trendy sweaters and necklaces and Amanda looked quite angelic in white on "GCB," a far cry from last week.
Unfortunately, some of our other TV favorites didn't fare quite as well. Karen (Katharine McPhee) pranced around in a green bodysuit for an orange juice commercial on "Smash," while "Happy Endings" put Jane (Eliza Coupe) in a mustard-colored suit for one epic wedding.
Click through the slideshow below to see our picks for best and worst dressed TV characters of the week, then share your nominees in the comments!
As the host of NBC's reality fashion design competition show, Elle MacPherson is expected to show up dressed to the nines. This week, she took her style to the next level in a form-fitting, sequin-studded dress and sky-high heels.

Oops -- looks like the cold, perfect-figured Betty Francis may have let herself go a bit, and that unflattering floral top didn't help. Luckily, Pauline Francis was around to offer a bit of motherly advice to her new daughter-in-law on Monday night's episode. "Honey, I know how it happens. You get comfortable and you give up a little bit, and then it just gets out of control.There are things you can do about this, there are pills you can take." Thanks, mom!

On this week's episode of "The Voice," Christina Aguilera seemed to have come to her fashion senses. The host showed up sans frizzy curls and donned a brightly-colored bandage dress that hugged her slimmer curves perfectly.

How far would YOU go for an orange juice commercial? When Karen (McPhee) was pitted against Ivy (Megan Hilty) as they competed for the same commercial on Monday's episode, Karen came out victorious ... in green. The aspiring Broadway star donned a bright green body suit and a big smile to tell viewers to "start their day off right!"

She just looks so innocent in white! Amanda (Leslie Bibb) graced this week's episode of "GCB" in a soft, loose-fitting white sundress that gave off an angelic vibe especially when paired with her wispy blonde hair.

Here comes the bridesmaid, all dressed in... yellow? On this week's episode of "Happy Endings," Jane (Eliza Coupe) found herself excluded from her friends' wedding party because of her height. Not one to miss out on a good time, Jane made her way in by food poisoning a member of the party and didn't even complain when she had to wear an oversized mustard-colored suit. Talk about taking one for the team!

On Thursday, viewers everywhere mourned the loss of the near decade-long CW series, "One Tree Hill." But the OTH cast managed to go out with a bang -- especially fashion-wise. Haley (Bethany Joe Lenz) and Brooke (Sophia Bush) appeared wearing trendy blouses and sweaters, along with similar chunky necklaces that complimented their simple tops perfectly.

On the Wednesday return of "Toddlers and Tiaras," Isabella's tiara was the least of her worries. The 5-year-old appeared in a poofy plaid dress complete with hot pink bows. And that collar around her neck doesn't exactly look comfortable! Here's to hoping Isabella makes her mama proud.