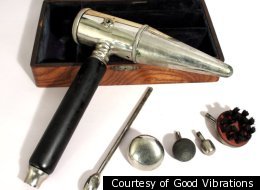 San Francisco's newest museum is sure to cause a buzz when it opens April 12 -- because it's devoted to vibrators of the past.
The Antique Vibrator Museum is designed to showcase kinky collectibles from the late 1800s to the 1970s and, in the process, the history of health and sexuality between 1890 and 1970, according to curator and sexologist Carol Queen.
"The new exhibit contextualizes the vibrator's role in society and highlights how our attitudes around sex and female pleasure have evolved," Queen said. "It really gives us an appreciation for how far both society and technology have come."
The museum showcases vibrators collected since 1977 by the proprietors of Good Vibrations, a sex shop with five locations in San Francisco and Oakland, and an additional one in Brookline, Mass.
"All of the stores have these vintage vibrators on display and we decided we wanted to showcase these better," Queen told The Huffington Post.
The new 300-square-foot museum is in the back of the Good Vibrations shop on Polk Street -- which those with an adolescent sense of humor will note is pronounced "poke." The sex shop owners established the museum figuring that it will attract sales; admission is free.
VIBRATORS THROUGH THE 20TH CENTURY (Story continues below)
Antique Vibrators Get Their Own Museum In San Francisco

With a strong vibration and a sound like a ratchet, this early model reminds us that what vibrators do best besides provide massage is foster blood circulation -- the key to early vibrators' claims that they could address a wide range of health complaints.

Homes without electricity could still enjoy the health benefits of vibration with hand-crank mechanical models, which were available in both Europe and the US. At least one model was also made in Japan.


Look closely at the graphic on the inside lid of the Detwiller's case and you'll see the tank of compressed air that made this model vibrate. A very unusual design that did not make the marketplace headway that electricity-powered vibrators did.

The rather simple design of the vibrator itself is left in the dust by its opulently-decorated box, covered with iceberg, polar bear cubs, and a lady in her nightgown. Info on the box is provided in English, French, and Spanish!

Half as large as the vibrators of the 'teens and '20s, this well-designed little item was easy to find in the 1930s and '40s, and is commonly found made of brightly-colored aluminum.

By the late '30s to early '40s, vibrators were increasingly marketed to assist in weight loss. This use of vibration may not work particularly well, though vibration plate machines -- an update of this mid-century design -- can be found in some gyms today.

Grandmother used a rolling pin for baking, and perhaps for much more! Deco-designed with Bakelite handles and a heating function in addition to vibration.


More weight loss claims, featuring a vibrating rubber suction cup and an easy-to-use hand strap. 


Originally designed in the 1930s and little-changed throughout the middle of the 20th century, this Swedish massager was often encountered at the barbershop, where its specialty was scalp massage after a haircut.

Currently the most popular electric vibrator, the Hitachi Magic Wand began its life decades ago with a sleek modern look.
The history of sex toys can be traced back thousands of years to dildos made of stone or wood, but Queen says the museum is pegged strictly toward 20th century erotic instruments.
"We're not doing ancient sex implements. The oldest we have dates back to 1890," says Queen, who is one of the founders of International Masturbation Month, celebrated in May.
Queen says it is a coincidence that the museum is opening at a time when women's sexual health is being attacked by people such as Rush Limbaugh and Rick Santorum.
"It is a fluke that the antique museum opens at a time of antique discourse," she says.
In the so-called Gay '90s, many doctors prescribed genital vibration as a way to cure a condition known as hysteria, but Queen is quick to jump on assumptions that vibrators were marketed solely for that purpose.
"Some said that massage and vibration was good for tuberculosis and it does help with blood circulation," Queen says. "It was sort of a fad, kind of like when chlorophyll was sold as a cure-all for bad breath in the 1950s.
Vibrators exhibited include a hand-cranked model that was made for homes without electricity. "It's actually come back as a 'green' alternative," Queen notes.
Some of the items sound bizarre, but Queen thinks the reaction of patrons is going to be more of familiarity. "You're going to see things that you once found in grandmother's closet and you'll say, 'I never knew that was a vibrator,'" Queen says.
Case in point: the Stim-u-Lax scalp massager from the early 1960s, which was ostensibly designed for barbers to rub the heads of customers, but soon found other purposes.
"It fits on a finger," she says. "My dad was a barber and that's how I discovered it. I don't know what my parents thought when I took it and never gave it back."
Some vibrators are going to shock people, such as a pneumatic-powered one from 1906, powered by compressed air, and therefore more explosive than the orgasms it might provide.
Although it might seem that a vibrator museum might raise some eyebrows, Queen has not seen any negative reaction so far. "This is San Francisco," she says. "We're more likely to get an opening day proclamation from the city council."