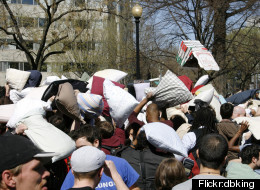 WASHINGTON-- It's going to be a fun weekend, if you're staying in town.
We've got a Mexican Passover feast and Easter brunch in in a mansion with a hundred rooms and 32 secret doors. Also be sure to catch a show with the awesome women of indie-pop fanzine chickfactor -- and don't forget the National Cherry Blossom's fireworks show.
Click through the slideshow below for a great start to a spring weekend!
Opening in The Cooley Gallery today is "Hippies", a fantastic collection of black and white photos of from the 1960s and 70s. These photos take us back to a very different world. Bonus: some of the photos were taken in D.C. Photographer Richard Busch was a magazine professional for nearly 40 years, sometimes assigned to cover rock stars and celebrities. In the late '80s he became a full time "functional potter" according to his bio. He's certainly an interesting artist who takes very interesting photos. Free. Thursday through Saturday, 11 a.m. to 6 p.m., Sunday 12 p.m. to 4 p.m.. 12 S. King St., Leesburg, Va.

Staying in town for Passover? Here's something deliciously different, but still appropriate for the holiday: Mexican Passover. Rosa Mexicana has adjusted their menu to include matzoh-breaded chicken, red snapper gefilte fish and beef brisket tacos -- even a Passover sangria, with Manischewitz reduction -- for the duration of the holiday. Prices vary based on menu. April 6 to April 13. 575 7th St. NW. (202) 783-5522.

These chicks have nothing to do with Easter. It's the 20th anniversary of noted East Coast zine "chickfactor". To celebrate, Artisphere is throwing a two-day event featuring women (and a couple of men) from the indie music scene. Friday's show includes a performance by Stevie Jackson, guitarist-singer for Belle and Sebastian, which has a a song called "Chickfactor." Local D.C. pop group Dot Dash will also be playing. Browse the full lineup at Artisphere's website while jamming to the sample tunes. Tickets range from $25 to $45, and are available here. 1101 Wilson Boulevard, Arlington, Va.

Explosive cherry blossom fun! Saturday brings the National Cherry Blossom Festival's signature firework show. From 1 p.m., enjoy music, dance, food and a variety of entertainment at the waterfront. Fireworks begin at 8:30 p.m (Check out the full schedule here.) This year's fireworks, created especially for the 2012 centennial, are an original display provided by Nagaoka City, famous for its own fireworks. Free. Fireworks begin at 8:30 p.m. 600-900 Water St. SW.

Would-be paleontologists, take note! For a fun twist on the Easter egg hunt, check out the Calvert Marine Museum on Saturday. For the price of admission, children from ages 3 to 7 will scramble through the museum to unearth hidden fossil eggs throughout the museum. Kids should bring their own bags for collecting the fossil eggs -- and they get to keep the fossils. Free with admission, $7. Discounts available. Seniors and military pay $6, ages 5-12 pay $2, children under 5 free. 10:30 a.m., 14200 Solomons Island Rd., Solomons, Md.

International Pillow Fight Day is here again! This year, Washingtonians have two opportunities to battle it out with soft, not downy, pillows. Rules and details can be found here. Free. 1:30 p.m., National Mall. 3 p.m., Dupont Circle. Flickr photo by dbking, used under a Creative Commons license.

Have your Easter celebration at the eccentric Mansion on O Street is a good idea. They've got a brunch, an egg decorating contest, an Easter bonnet brigade. And after you're done eating and Eastering, you can sneak around the museum's secret passageways. Tickets cost $75 and can be purchased here. Treasure hunts are $10 extra (seriously). 2020 O St. NW. 202-496-2020. http://www.omansion.com/

After you're done eating for your holiday of choice on Sunday, dance away those extra calories with a lesson at Glen Echo Park. Choose from contemporary ballroom, contra, and square dance. Check out the details at the website. Tickets $12 for nonmembers, $9 for members. 7 p.m.. 7300 MacArthur Blvd. Glen Echo, Md. (301) 634-2222

Sunday is the last day for this well-received production of Eugene O'Neill's only comedy. Visit the Arena Stage to watch the warm story of a hopelessly romantic high-school senior. Tickets are $40, available for purchase here. 7:30 p.m., 1101 6th St. SW.
Flickr photo by dbking, used under a Creative Commons license.