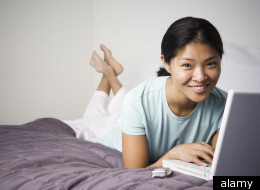 By Luke Dempsey for Bookish
Friday sees the release of the much-awaited U.S. Department of Labor's March employment figures, but for many "new workers"–those who've traded the chance of a corner office for the lure of their couch–these weighty announcements are beside the point. Suits are out, pajamas are in, and that's because in the 21st century economy, more people are finding work beyond a traditional office setting. Many (often younger) Americans are a workforce of one as they head off on their own as independent contractors and freelancers. But can you make a living from your living room? These experts say you can.
Michelle Goodman, author of the "Anti 9-5 Guide" and "My So-Called Freelance Life" is already convinced that there's a life outside the grind, but it's not easy. Goodman says you have to take as much care of what's in your fridge (in the land of self-reliance, don't waste food!) as what's on your resume. And if you're not quite ready to flee the office, then make the most of the years before you take the plunge-for a start, get to work half an hour early and scare the pants off your sleepier colleagues.

If inspiration and ideas are your thing, then Meg Mateo Ilasco and Joy Deangdeelert Cho's book Creative Inc. outlines what it takes to make a living wage doing art, design, writing, animation and other non-rote work. Their 'nine qualities of a freelancer' include loving what you're doing, being a good communicator, and letting go of criticism.

To succeed out of the mainstream, however, you're going to need to be your own best advocate. So if you're worried about a charisma deficiency, you could always take heed of "The Charisma Myth"-author Olivia Fox Cabane was lecturing at the United Nations at the tender age of 25, so she knows a bit about chutzpah. The bad news? She quotes an MIT study that suggests all we have is two seconds to make a first impression.

If all that's too scary, how about having your cake and eating it, too? David Lindahl in "The Six-Figure Income" says you can make great money beyond your main gig (erm, what are you waiting for?), and you can do so by thinking small-being a 'micromanufacturer and micromarketer' is the way to go says Lindahl.

Eric Reis takes a scientific approach to entrepreneurship in "The Lean Startup," arguing that to create a successful business, you have to be constantly look at what you're doing, appraise it honestly, and nimbly react to your successes and failures.

But you won't stay lean if you take Andy Kessler's advice-he says to you have to "Eat People" if you want to be a successful entrepreneur. What this means is you have to be willing to kill the jobs in your organization that don't add value; you have to 'create artificial scarcity;' and you have to let the market decide what works and what doesn't.

So with Americans increasingly going it alone, it's ironic that the king of connections, LinkedIn founder Reid Hoffman, should write a book whose title epitomizes this New Work Order: "The Start-Up of You." But as with LinkedIn, he's on to something-even if you're in an office dying to escape it, there's only one person who has your best interests in mind. Go find a mirror; your best friend will be right there looking back at you, whether you're wearing a Don Draper-gray suit, or your favorite jammies.
Read more at Bookish