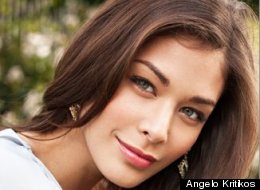 Lisa Lampanelli has made no secret of the fact that she dislikes her fellow "Celebrity Apprentice" contestant Dayana Mendoza, a former Miss Universe from Venezuela.
But during a radio interview last week, Lampanelli -- who usually just mocks and criticizes Mendoza -- took her feud with the former beauty queen a little too far when she made remarks that Mendoza is now calling racist.
"I actually would love to see [Dayana] giving birth. She's a spic! She's going to do it f***ing soon, anyway," Lampanelli said on the air. "She'll be knocked up before the end of the week."
Mendoza tells The Huffington Post that Lampanelli's comments are out of line and racist.
"I understand that it's Lisa's job to make fun of people for a living," she said. "If poking fun at me can help her sell tickets to her shows, no problem, I am happy to help her put food on her table. However, when she uses racial slurs, she is not only targeting myself but degrading an entire Hispanic culture."
Was Lisa Lampanelli out of line?
CHECK OUT THIS SLIDESHOW ON LATINO TV STEREOTYPES
"Rob!" is about a guy who marries a Mexican-American woman and must now be part of her very big, very Mexican family. If this clip is at all representative of the show's content, the new sitcom will be full of jokes on illegal immigration, racism, and the pursuit of so many people to make sense of the Spanish language. The show may be fictional but Schneider is actually married to Mexican television producer Patricia Azarcoya Arce.

Judge for yourself: Santana in Glee is a loud, aggressive Latina from a rough neighborhood. But she's also strong and independent, so we're more or less ok with her character.

Wilmer Valderrama played Fez in the hit series "That 70's show" for all eight of its seasons. The name "Fez" was an abbreviation for Foreign Exchange Student. As a running gag throughout the show, Fez's nationality was never specified, but he was assumed to be Latino. In one of the first episodes, he even sings in Spanish. It's interesting that Fez's nationality is never specified. It may have been a way to avoid allegations of typecasting, or perhaps a clever way to have viewers check their own assumptions and biases because of the odd accent and style of Fez.

In this breakthrough role, Sofia Vergara has received award nominations and pop-culture fame, catapulting her career and entrepreneurial efforts. But many have serious problems with her over-the-top portrayal of Gloria, the loud, sassy Colombian housewife with the hot bod, expensive clothes, narco ex-husband, and confusing English. It can be grating, and may be a one-trick pony, but this is comedy after all, and all the characters are caricatures, so her portrayal does not ring as offensive to all.

The late Freddie Prinze played Chico Rodriguez, the energetic and optimistic young Chicano in the 1970s sitcom "Chico and The man." To their credit, the show's producers did try to deal with some substantive issues, parental abandonment, prejudice, the plight of the working poor. But being earnest is never enough, and Chico and the Man was recognized -- then and now -- as a shallow caricature of Chicanos, as most every possible cliché was happily included in the storylines. Just consider "Looooking good!" -- the "TV Land" channel's Chico and the Man Fandemonium promo from 2001.

A number of stereotypes clash in this episode of Scrubs: 1. The sexy Latina 2. A Latina being offended because of a reference to her age. 3. The enraged, mind-blowing and so-so-out-of-control Latina. Although we take sexy as a compliment, we are a bit offended by the other two portrayals. As much as we like the special effects, Carla Espinoza;s transformation into quite literally a raging monster because she was compared to a younger woman isn't so cool.

Dezi Arnaz played Ricky Ricardo, Lucille Ball's Cuban husband in "I Love Lucy." Ricky Ricardo played on the stereotype of the Latin lover, passionate about music and his wife. He also played the negative side with his fiery personality. He is portrayed as a hot tempered Latino man. Plus, the angrier Ricky Ricardo got, the more broken and incomprehensible his English became.

Actress Shelly Morrison played Rosario Salazar, Karen Walker's maid in the hit TV show Will&Grace. Rosario was an undocumented immigrant, originally from El Salvador. Rosario spoke English with a very thick accent. She was briefly married to Jack McFarland, Karen's gay friend, so that she could obtain her green card and avoid deportation. Rosario's character was sometimes portrayed as the submissive maid who had to deal with the snobby, rich, white boss. Karen was readily condescending to Rosario, often assuming that she didn't understand anything in English. But in reality, Karen and Rosario had strange love-hate relationship.

Described by ABC as "a high-concept comedy about two unrepentant guy's guys who, unable to find work, dress as women to get jobs. Not only do they pull it off, but they just might learn to be better men in the process. Lee Standish is a quick-witted and likable family man. His best friend, Angel Ortiz, is a hotheaded ladies' man with no filter." Puerto Rican actor Amaury Nolasco plays Angel. Unfortunately for him, not only has "Work It" been universally panned as a terrible sitcom, it will now live in infamy for his character's "toss-away joke equating Puerto Ricans with drug dealers," leading to a heated social media campaign and demonstrations seeking formal apology by ABC.

Rosalita, who's first language is Spanish, is hired by Mrs. Walsh to help pack the house for the big move. Although it's not quite clear where Rosalita is originally from, she "doesn't speak a word of English." Good thing Clark was there to save the day! Clark, who's fluent in Spanish, "translates" all of Mrs. Walsh's orders to Rosalita. Except, they're not quite literal translations. Clark tells Rosalita there are drugs to be organized, rooms for sexual tortures and a cockroach filled room for her if she misbehaves. Although "The Goonies" is still one of our all time favorite movies, the portrayal of Rosalita has very negative connotations. Mostly, she is also portrayed as gullible -- believing all the crazy statements coming out of a young boy's mouth.

In this episode from the sketch comedy show, Portlandia, Fred Armisen is having a hard time believing that the dishwashers at the restaurant actually speak English. Armisen speaks Spanish (impressively well, actually) and he attributes it to the fact that he's traveled a lot. He's even been to Ecuador! So, leaving your home country and moving to a new country doesn't really count much as traveling, does it Fred?

Although Eva Longoria played the successful model Gabrielle Solis, breaking away from the struggling maid stereotype, she embodied another cliché -- the sexy, conniving Latina vixen. She uses her sex appeal to get what she wants, which in this case, was the rich husband and the so-called perfect life. However, as the show developed, we witnessed a much more down-to-earth side of Gabrielle. She came from a low-income family in Mexico and, through her tenacity and perseverance (and her looks didn't hurt), she became a big-time model. Carlos' and Gabrielle's marriage also becomes more real over time, not based entirely on money or good looks.

Claire Meade, played by Judith Light, is insulting in assuming that whomever is on the line, given that that they are Latino, will be named "Consuela." "There's always a 'Consuela,'" is a stereotype because it's a generalized misconception of Latino names. But hey, we forgive them. We love "Ugly Betty" for celebrating people who are different, people who don't conform to societal molds of beauty but who stand up for who they are.

"Here comes the loud and emotional Cubans," George Lopez says. His Cuban wife, Angie Palermo, responds: "That's just a stereotype." But lo and behold, in come Lopez's in-laws -- very loud and emotional Cubans. The portrayal of the Cuban parents is definitely stereotypical. Still, it's not too often that we see a Cuban family portrayed on TV.

The pseudo-Godfatheresque setup of the entire plot may have been why this elaborate, overly dramatic series starring Jimmy Smits, Nestor Carbonell, Hector Elizondo, Rita Moreno and quite a few other accomplished Latino actors simply collapsed under its own weight. It lasted but one season.

Lucy, the character played by Aida Linares, in Clueless is rightfully offended as Cher, played by Alicia Silverstone, confuses her for being Mexican when Lucy is actually from El Salvador. To top it off, Cher asked Lucy to get a message to her gardener because, as she put it: "You know I don't speak Mexican!"

Although it is true that all Latinos can dance (well, nearly all) ... we don't salsa dance to all types of music. In the final scene, Nestor Carbonell proves that his dancing can be as authentic as his non-Latino roles, such as Richard Alpert in "Lost." Actually, he played a Spaniard in that one...

If you're going to run with one stereotype, you might as well go for broke. Here's Slowpoke Rodriguez -- Speedy Gonzalez's cousin - in one of his very few onscreen appearances, which may be a good thing, since it allowed for the prevailing stereotype of Mexi-mice to be "fast, clever, determined" and not the "indifferent, pistol-packing slouch."