Eadweard Muybridge's Stop Frame Images (PHOTOS)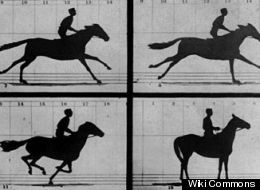 As we all now know, thanks to Google, the British photographer and inventor Eadweard Muybridge was born on this day 182 years ago. In photography classes around the world, students learn about the father of the Zoopraxiscope's contributions to the field. It should be common knowledge at this point that Muybridge used stop frame photography to capture images of animals in motion, but his results remain intriguing over a century later.
See a slideshow of the moving images below, and let us know what you think in the comments section.
Animated sequence of a dog galloping. Photos taken by Eadweard Muybridge (died 1904), first published in 1887 at Philadelphia (Animal Locomotion).

Animated sequence of a woman walking downstairs, frames taken by Eadweard Muybridge. Late 19th Century.

Animated sequence by Eadweard Muybridge (1830-1904) of himself throwing a disk.

Animated sequence by Eadweard Muybridge (1830-1904) 19th century

Animated sequence by Eadweard Muybridge (1830-1904) Ostrich running (from rear), 1887