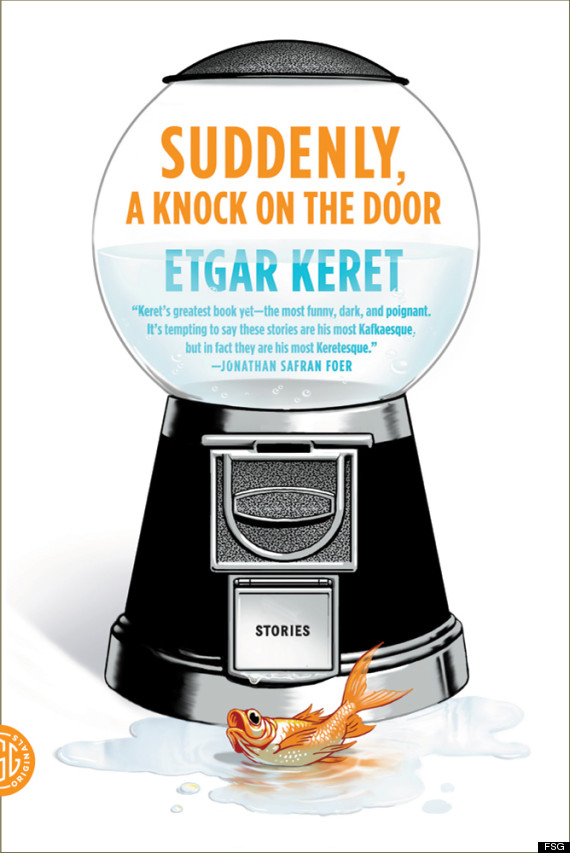 Suddenly A Knock At The Door by Etgar Keret
FSG Originals, $14.99 paperback / $9.99 ebook
Published on March 27, 2012
What is it about?
A collection of short stories, witty, bittersweet, and unblinkingly surreal.
Why are we talking about it?
It's an engaging, entertaining and highly readable collection; it's getting prominent placement in bookstores, and it's about to get a lot more press as an incredible line up of Keret's more famous literary fans narrate a unique audiobook edition ($24.99) of the book.
Voices featured include those of Dave Eggers, Ira Glass, Ben Marcus, Willem Dafoe, Stanley Tucci, Michael Chabon, Aimee Bender, Neal Stephenson, Miranda July, Gary Shteyngart, Adam Thirlwell, Shalom Auslander, David Rakoff and Jonathan Safran Foer. Keep an ear out for excerpts on a public radio station near you. Here's a clip of Ira Glass reading the title track.
Who wrote it?
Etgar Keret is a writer/movie director from Israel. It took him ten years to put together this collection, while teaching at Tel Aviv University.
Who will read it?
Fans of quirk; people who follow semitic literary trends; people with short attention spans; people interested in how the surreal can reflect on everyday Israeli life - and vice versa.
What's it similar to?
David Sedaris; Julio Cortazar; Kurt Vonnegut, Franz Kafka.
What do the reviews say?
LA Times: "It's astonishing what he can do in just two pages"
The Guardian: "The stories are all thought-experiments. What if, they ask. Why not? And, what the heck? Like all art, they are highly patterned, highly charged, refracted reflections on the chaos and randomness of everyday existence."
Impress your friends
Keret's movie "Jellyfish" won best first feature film at the Cannes Film Festival in 2007.
Opening line
"Tell me a story," the bearded man sitting on my living-room sofa commands.
Typical passage
The man who knew what I was about to say sat next to me on the plane, a stupid smile plastered across his face. That's what was so nerve-racking about him, the fact that he wasn't clever or even sensitive, and yet he knew the lines and managed to say them- all the lines I meant to say- three seconds before me.
'D'you sell Guerlian Mystique?' he asked the stewardess a minute before I could, and she gave him an orthodontic smile and said there was just one last bottle left.
'My wife's obsessed with that perfume. It's like an addiction with her. If I come back from a trip and don't get a bottle of Mystique from duty-free, she tells me I don't love her any more. If I dare walk in the door without at least one bottle, I'm in trouble.'
That was supposed to be my line, but the man who knew what I was about to say stole it from me. He didn't miss a beat.