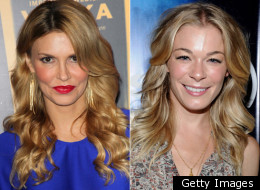 Is LeAnn Rimes looking to get candid about her affair with now-hubby Eddie Cibrian in a tell-all book?
On Friday, an anonymous publishing source told E! News that Rimes' rep had been "putting out feelers" to find the right person to help pen her autobiography and "tell LeAnn's side of the story in her own voice."
The news came less than a month after Cibrian ex-wife wife, Brandi Glanville, told Twitter followers that she'd met with book agents to discuss a book about "surviving divorce."
But don't count on adding complementary Rimes and Glanville memoirs to your bookshelves anytime soon. On Monday morning, the 29-year-old country singer took to Twitter to shut down the book rumors and deny reports that she'd recently gone brunette.
"So you all know, I'm blonde & there's no 'tell all' book about divorce, marriage and 'my side.' I just laugh at a of this!" Rimes tweeted.
Still, the country star hasn't remained completely quiet about her affair with Ciberan, whom she met on the set of the 2009 television movie "Northern Lights." In June 2011, Rimes told Great American Country channel, "I know that I didn't do it the right way... I didn't have the tools to know how to do it the right way... I'm not glad it happened, but I know why it did."
Rimes and her ex-husband, Dean Sheremet, divorced in December 2009, three months after Cibrian split from Glanville, his wife of eight years. In April 2011, Cibrian and Rimes tied the knot.
If Rimes ever does decide to dish on her divorce in print, she certainly won't be the first celeb to do so. Click through the slideshow below to read excerpts from some of the juiciest post-divorce memoirs.
Celebrity Memoirs: Divorce
Tori Spelling and ex-husband Charlie Shanian split in October 2005, merely 15 months after their $1-million wedding. In 2008's sTORI Telling, she discusses the demise of their brief union, including details of her affair with her current husband and former costar Dean McDermott. "It needed to end, but it could have happened in a nicer way. I wish I'd been able to communicate with Charlie from the very beginning of our relationship. And I should have handled things differently in the end. He's a sensitive, kind person. I know he would have listened. If I'd let our differences reveal themselves earlier...well, we might never have gotten married."

In Larry King's 2009 memoir, My Remarkable Journey, the former TV host discusses his eight marriages and seven divorces casually--as if they were nothing more than small steps on his road to success. Of his second wife, Annette Kaye, he writes: "After she got divorced, she told me she's done so because of me and insisted that I marry her. She could be very controlling, and I was never good at saying no. We were married at Broward City Hall. But I was young, and I wasn't going to be boxed in. I never lived with her. I can't remember seeing her much after the wedding--maybe a couple of times. Divorce papers were filed as a matter of course."

Actress and activist Mia Farrow married her first husband Frank Sinatra when she was 21 and he was 50. She discusses their divorce in her 1997 memoir, What Falls Away, revealing that she was shocked to be served with divorce papers on the set of Rosemary's Baby, her breakthrough film. "Then, without warning, on an afternoon in November, Frank's lawyer, Mickey Rudin, appeared on our set carrying a brown envelope. He pulled out documents just long enough to see they were made out in my name: they were an official application for a divorce from Frank Sinatra. I remember the unprofessional look of surprise as Mr. Rudin realized I had not expected his visit, nor did I know anything about the papers he carried. This was the first mention of divorce. I held myself together and signed all the papers without reading them. If Frank wanted a divorce, then the marriage was over."

Eight years after Britney Spears' parents' divorced--and two years after her mom, Lynne Spears, wrote a memoir chronicling her ex's alcoholism her failed marriage--the pair reconciled. In her book, released in September of 2008, she wrote: "When we spoke our vows to each other, those tender, simple words, I could never have imagined for one split second that someday everything would unravel, that in a short period of time I would live each day in uncertainty, never knowing if this was the day the man I loved would act like my husband again. And for the better part of the next twenty-four years, he wouldn't act like the man I married."

Kathy Griffin, who divorced her ex-husband Matt Moline in May 2006, revealed that he had stolen over $72,000 from her over the course of their marriage, which prompted the split. In her 2009 memoir, she wrote: "Looking back on it all, I really had been a complete pussy about realizing it was over, even though in the back of my mind the trust that should exist between a married couple was 100 percent shot," she wrote in her memoir, published in September 2009. "I wish I had one of those Stella Got Her Groove Back moments where I turned to him and said, "Get out!" But in the end it was Matt who had to hit me over the head with the fact that we were through."

In Charlie & Me, talk show host and author Harriet Bronson--Charles Bronson's first wife--details the demise of her marriage and her ex's affair with a younger co-star, British actress Jill Ireland, whom he later married. In her memoir, published in December 2010, she wrote: "Charlie couldn't understand the extent of my anger. How could I explain it to him? For eighteen years I'd loved him, trusted him, believed in his truthfulness and his integrity, and now he'd betrayed me. The man living in the house with me wasn't even Charlie anymore. He was somebody else, and I didn't like him or want him. I felt overwhelmed and victimized by circumstances beyond my control, circumstances that the perpetrators would not even own up to."

Former Law & Order: SVU actress Isabel Gilles quit her acting career to follow her husband, a poet and professor, to his new teaching job at Oberlin College. In her 2009 memoir Happens Every Day: An All-True Story, her best-selling memoir, Gilles reveals that he abruptly left her for another professor, turning her seemingly idyllic life upside down. "My beloved husband whom I was so deeply in love with was going away from me and I couldn't stop him. Our children couldn't stop him. Reason couldn't stop him. Money couldn't stop him. Our parents couldn't stop him. Nothing could stop him, and it made me want to tear my hair out and cry until the world ended. But the world wasn't going to end. In fact, it kept going at an alarmingly fast pace."