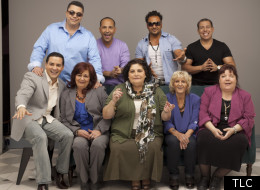 "Mama's Boys of the Bronx" (premieres Mon., Apr. 9, 10 p.m. ET on TLC) follows five Italian-American men who are all good looking, gainfully employed, in their 30s and still living with mom. (Take an exclusive sneak peek at their debut here.)
But it was only a matter of time before mama's boys got their own show since they have always been a TV staple.
From classics like Richie Cunningham from "Happy Days" and Cliff Clavin of "Cheers" fame, to more emotionally-scarred versions like Charlotte's ex-husband Trey on "Sex and the City," and a few modern takes like Jax Teller from "Sons of Anarchy" and "Modern Family's" Manny, we've rounded up 19 of TV's biggest mama's boys of all time.
Click into the gallery to see them all. Did we forget your favorites? Share them in the comments ... if your mom gives you permission.
One word: Motherboy. Buster (Tony Hale), the youngest of the Bluth clan, is pretty much the only one of Lucille's (Jessica Walter) kids that doesn't have enough of a spine to stand up to her. He's so weak, in fact, that he accompanied her to the annual Motherboy dance over 25 times (they even won "Cutest Couple" a few times), and then rebelled by dating her nemesis -- a woman her age also named Lucille (Liza Minnelli).

Manny (Rico Rodriguez) is a sensitive soul, worrying about his wardrobe and writing poetry for his grade school crushes, but he's always getting called out for being such a mama's boy by his stepdad Jay (Ed O'Neill). Manny stepped up to be the man in Gloria's life when his dad left them, and with a loving, doting mom like Gloria (Sofia), who wouldn't do the same?

Castle (Nathan Fillion) is a playboy in every sense of the word. He's single, successful and doesn't mind showering ladies with the finer things in life. The fun twist? The ladies include his daughter and his mother, Martha Rodgers (Susan Sullivan), who both keep him in line and give him advice when he needs help navigating things with Beckett (Stana Katic).

He was a handsome, wealthy doctor with a lovely new wife, but Trey (Kyle MacLachlan) just couldn't get out from under his mother's thumb. (Bunny's overbearing nature probably didn't help with Trey's problems under the covers, either.) When Charlotte finally called it quits, Trey gave her the Park Avenue pad and moved back in with good old mom. Naturally.

Played to perfection by young actor Lino Facioli, Robin Arryn is a sickly child, demented by his traumatized, isolated mother, Lysa Tully. At the age of seven, he is still breastfed, and even says "I'm hungry" when he wants more. His father was murdered, and because of it, his mom clings to him; he is allowed to do anything he desires, and Lysa is completely deluded, believing her son to be strong, healthy and fit to rule a kingdom. Robin can usually be found sitting in his mother's lap, cradled tightly in her arms.

There's a reason that George O'Malley (T.R. Knight) was always seen as just one of the girls, and when Mama O'Malley and the rest of her sons came to visit Seattle, it was clear. George was the best kind of mama's boy: sweet, sensitive and out to help women until the very end.

Fast-talking postman Cliff (John Ratzenberger) may have complained about his mother when he was hanging out at Cheers, but he loved his ma, Esther, so much that he still lived with her in the house he grew up in. Cliffy was completely devastated when she moved to Florida -- of all places! -- but it finally forced him to get an apartment and a pull-out couch of his own.

"My mom says I'm cool." Yep, for Milhouse, that's enough. Nerdy and wishy-washy, Milhouse relies on Bart as one of his only friends, and when that fails, he runs to his mother. They're so ridiculously close (and look so much alike) that when Ms. Van Houten tries dating for the first time after divorcing, Milhouse turns into a holy terror, breaking things in the house and acting out.

It's no secret that Travis (Dan Byrd) and his mother Jules (Courteney Cox) are ... close. In Season 2, Travis even decided not to back his girlfriend in a confrontation with mama Jules -- big mistake. Doesn't get much more mama's boy than that!

A nerdy teen with an awesome pair of glasses, Raj (Ernest Thomas), didn't mind being smothered by his divorced mother, Mabel, even if her giant hugs made him shout, "Mama, I can't breath!"

Although he's a successful engineer and fancies himself a ladies man, the No. 1 lady in Howard's (Simon Helberg) life has always been his mother, Mrs. Wolowitz, who he lives with. Now engaged to Bernadette, Howard's already agreed to be a stay-at-home dad when they start a family, no doubt ensuring that his kids will be daddy's boys.

When it comes to wholesome TV mamas and their boys, Richie Cunningham (Ron Howard) and Mrs. C (Marion Ross) take the cake. Never one to disappoint his mother, Richie often collaborated with his sister and friends to celebrate Mrs. C with parties and trips.

He can take out trained assassins with one karate chop. He's an incredibly handsome man who is wildly attractive to women. And he can hold his liquor like nobody's business. But world-class spy Sterling Archer can still be reduced to a pile of goo by his scariest nemesis: his mother, Malory. Malory is far more interested in money, Burt Reynolds and alcohol than she is in her son. She left most of the child-rearing to boarding schools and the family's butler, Cyril, and -- let's face it -- he was probably a much better influence on the boy.

As the heir to a biker-gang empire, Jax (Charlie Hunnam) has always listened to the counsel of his pistol-packing mama ... maybe a little too much. But Jax shows signs of rejecting his mother Gemma's (Katey Sagal) well-intentioned manipulations, even as his baby mama, Tara, becomes more like Gemma every day.

Bill (Martin Starr) was hands down the geekiest of the geeks, and not just because of his outward appearance. But being raised by a single mom also meant that he was sweet, gentle, a great friend and a huge fan of primetime soap opera "Dallas."

Even on "Jersey Shore," Vinny manages to keep his family first. When the gang was in Italy, he made a point of taking the guys to Sicily to meet his relatives and see the place where his mother was born. When he struggled with anxiety after their return to Seaside, he knew the best place for him to rest up and get well was back at home with his mom and family in Staten Island. Later, when he was back at the house, his family surprised him on his birthday and took everyone out to dinner. All together, now: "Awww."

"But, Mooooooooooooooooom!" Cartman pretty much has his mother (who also happens to be his father -- long story) wrapped around his finger. She's done everything for her "little poopsiekins," from bringing him a bowl to poop in to supplying him with whatever food he wants. Mrs. Cartman's attempts to corral Cartman culminate when she hires "Dog Whisperer" Cesar Millan (pictured here), but before long he's back to his mama's boy ways.

Peter (Chris Noth) only has rose-colored glasses when it comes to mom Jackie (Mary Beth Peil). After Peter rocks his family's life with his scandalous dealings, Jackie is quick to defend him. Plus, Mama Florrick was key in getting Peter back on the political bandwagon after his fall from grace.