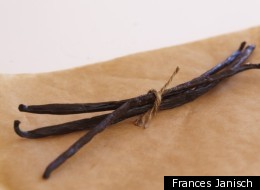 What would a baker do without vanilla? Their cookies wouldn't taste as sweet and their custards would be bland. A world without vanilla would be a sad, sad place. But lucky for us, not only can we easily get our hands on this entrancing spice, but we even have the option to pick our favorite variety; the most popular being Tahitian, Mexican or Bourbon (also known as Madagascar). But, when faced with these options, which one should you choose?
Unless you're a vanilla aficionado, you most likely don't know what the difference is between these three varieties of vanilla. Some people believe that vanilla is vanilla is vanilla, but this couldn't be further from the truth. Tahitian, Mexican and Bourbon vanilla all have their own unique flavor profile; and they have something different to offer to the dishes they're enhancing.
The only problem with vanilla is that this spice can cost you a pretty penny. And it's that high price tag that has many of us opting for imitation vanilla (even if we don't admit it to anyone). But with a little bit of research, and the ability to shop online, you can get this fragrant pod for a reasonable price. We quite like Beanilla and Chef Central as resources; and Amazon has never let us down. Click through the slideshow below to learn the difference between these three varieties. And next time you shop for vanilla (the real thing!) you'll know which one is right for you.
Where do you get your vanilla? Leave a comment.
Bourbon vanilla beans are grown in Madagascar and the West Indian island of Réunion. (Réunion was previously called the island of Bourbon, which is where this vanilla got its common name from.) This is the most typical type of vanilla and this region supplies the bulk of the international vanilla crop. These beans are long and thin with a strong sweetness. Madagascar vanilla is the flavor we think of when we imagine what vanilla tastes like. It has moderate floral overtones and a pure flavor -- straight, clean and uncomplicated. This vanilla is best used in baked goods where the flavor is meant to complement, not dominate, the dish.

Tahitian vanilla comes from the island of Tahiti, part of the French Polynesia. It's sweet and fruity and has less natural vanillin (that distinctive vanilla taste) than Bourbon and Mexican vanilla. This bean has a more cherry-like, floral, licorice taste. The Tahitian vanilla pod is fatter and moister than Bourbon vanilla, and contains fewer seeds inside its pod. It tends to be deeper in color than vanilla from Mexico and Madagascar, but the flavor is more subtle. It's nuanced and unique taste make it a great choice for dishes that use vanilla as its main flavor profile.

Vanilla originated from Mexico, and for a long time this country had a monopoly on it (until people figured out how to cultivate this spice without Mexico's native bees). Mexican vanilla pods are thicker than others. They have a nuanced, smooth flavor with a depth to it that few other vanillas can match. This variety is darker and richer than Madagascar vanilla and has a robust, intoxicating fragrance. It's best used in recipes where vanilla is meant to play a starring role. There was a time when Mexican vanilla was made with a toxic substance called coumarin. To steer clear of this, look for Mexican vanilla that has vanilla bean listed in its ingredients. And often times, price will be a good indicator as well. If it's really cheap, it might not be the real thing.