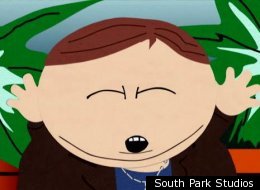 Music has always been a big part of "South Park." Long before "The Book Of Mormon" came out, Trey Parker and Matt Stone made "Cannibal! The Musical" and wrote songs every week for Stan, Kyle, Cartman and Kenny, so it's no surprise that they've had so much success in the musical world (the "South Park" movie was a musical, too).
With that in mind, we went through the massive South Park archives and picked out our 17 favorite songs from the show's 16 seasons. Vote for your favorites, and if you have a favorite song that didn't make the list, let us know in the comments!
17 Best 'South Park' Songs
The theme song for Butters' very own show.

It's time for Canada to send a message to the rest of the world.

Need to show a long passage of time? Gonna need a montage. (This song also made an appearance in 'Team America: World Police')

A song about saving the rainforest (featuring Jennifer Aniston as the choir instructor).

Butters sings about his robot friend from Japan.

Kyle feels left out of all the Christmas celebrations.

The upbeat intro of the Russel Crowe show.

Alan Jackson's newest heart-wrenching song.

Getting along isn't always easy, especially with yourself from the future.

Cartman's Christian rock band releases their much-anticipated album.

Before "The Book Of Mormon," Matt and Trey wrote a mini-musical about Joseph Smith.

Stan finally agrees to choose between a douche and a turd.

Mrs. Garrison reminisces about her one-time lover Mr. Slave.

The boys finally get on board with the teen musical fad.

Token wonders why he has to be different from all the other kids.

To see the Canadian Prime Minister, the boys must follow the only road in Canada.

The factory workers sing a song about making cigarettes.