Jane Lynch On Sobriety, Parenting (VIDEO)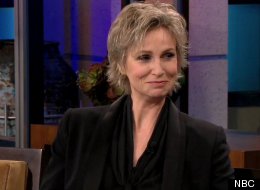 Post-50 Jane Lynch, perhaps best known for her role as Sue Sylvester from "Glee," spoke to Jay Leno Monday night on "The Tonight Show." Lynch will appear in the upcoming "The Three Stooges" movie as Mother Superior.
Their interview covered her experience hosting the Emmy awards last year (and what it was like to have the teleprompter fail on her), her character pregnancy on "Glee," and her own experience as a late-in-life parent. She also dished her 20 years of sobriety and why she's "done" with Hollywood parties.