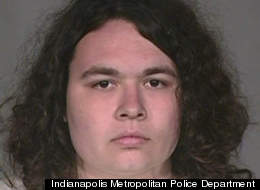 An Indianapolis man was arrested last week for wandering along a city street naked --reportedly because it was "Opposite Day."
Leonard Fodera, 19, was spotted by police walking naked down the street in the 800 block of East Lavarock Road around 6:15 p.m. last Tuesday in the city's Broad Ripple area, WISH reported.
When police asked Fodera what he was up to, he responded not only that he wanted to "feel free and do what he wanted," but also that Tuesday was "Opposite Day," therefore, he wanted to celebrate by breaking with the convention of wearing clothes in public, the Indianapolis Star reports.
An Indianapolis Metropolitan police officer responded, "In that case, you are not going to jail for public indecency," according to the Star. The Smoking Gun obtained a police report detailing the incident.
Fodera faced a preliminary charge of public indecency, according to the Indy Channel.
Contrary to Fodera's claim, the widely not-celebrated Opposite Day is actually commemorated on Jan. 25 annually.