Alessandra Ambrosio Birthday: Let's Celebrate With Her Best Covers Ever (PHOTOS)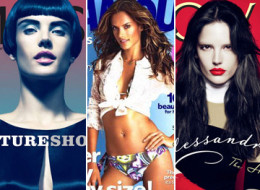 Well Alessandra Ambrosio has had a busy year, what with walking the Victoria's Secret Show pregnant, hopping in bed with Ashton Kutcher, palling around with a Kardashian -- oh, and booking her calendar up with post-pregnancy gigs.
So for the Brazilian stunner's 31st birthday today, we've decided to slow things down and look at Alessandra doing what she does best: striking a pose. Below, a round-up of Ambrosio's best magazine covers ever, from the darkly dramatic shoots to the splashy swimsuit pics (and oh, how many there are). Vote and tell us which is your fave!
Alessandra Ambrosio covers
(Courtesy photo)

(Courtesy photo)

(Courtesy photo)

(Courtesy photo)

(Courtesy photo)

(Courtesy photo)

(Courtesy photo)

(Courtesy photo)

(Courtesy photo)

(Courtesy photo)

(Courtesy photo)

(Courtesy photo)

(Courtesy photo)

(Courtesy photo)

(Courtesy photo)

(Courtesy photo)

(Courtesy photo)

(Courtesy photo)

(Courtesy photo)

(Courtesy photo)

(Courtesy photo)

(Courtesy photo)

(Courtesy photo)

(Courtesy photo)

(Courtesy photo)

(Courtesy photo)

(Courtesy photo)

(Courtesy photo)

(Courtesy photo)

(Courtesy photo)

(Courtesy photo)

(Courtesy photo)

(Courtesy photo)

(Courtesy photo)

(Courtesy photo)

(Courtesy photo)