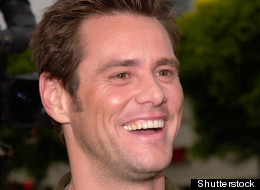 When we hear the word "granny," we can't help thinking of Irene Ryan in "The Beverly Hillbillies," or the Looney Tunes character who co-stars with Tweety Bird and Sylvester the Cat in the shorts from our childhood: tight bun, high-necked cotton dress, little-old-lady voice. Or how about grandpa? We immediately picture Grandpa Zebulon Tyler Walton of the 1970s TV show -- white hair, giant mustache, overalls.
But look at Hollywood today and you get an utterly different vision of grandparents. Here's a slideshow of some of our favorite celebs who defy the conventional image. Vote for your favorite!
Actor Jim Carrey, 50, became a grandfather at the age of 47 when daughter Jane and her husband had their son, Jackson Riley Santana. On the day his grandson was born, Carrey tweeted a photo of the newborn, adding: "Jackson Riley Santana, My Grandson, Born today! This is what 7lbs.11oz. of Calfornia dynomite looks like!"

Actress Goldie Hawn, 66, first became a grandmother at age 58. The grandmother of four has spoken out in her memoir "A Lotus Grows in the Mud" about her reluctance to being called "grandma" saying: "The wonderful day arrived; my grandson, Ryder Russell, burst forth into this world. I could barely contain myself. But was I really a 'grandmother'?"

Actor Pierce Brosnan, 58, became a grandfather at age 44, and has two grandchildren.

Actress/singer Rita Wilson, 55, and actor Tom Hanks, 55, became grandparents in 2011 when son Colin Hanks and wife Samantha Bryant had their daughter Olivia Jane Hanks.

Actor Harrison Ford, 69, became a grandfather in 1993 and is a grandparent of three.

Actress Whoopi Goldberg, 56, became a grandmother at age 34. The actress is a grandmother of three. Although Goldberg accepted grandparenting at a young age, she told the Daily Mail in 2009 that she wasn't ready to be a great-grandmother. "I made it clear that should the oldest one decide that was a good possibility that I would yank her tubes out with my bare hands," she said. "I accepted the grandmother thing in my 30s, but great grandchildren I'm not doing!"

Actress Priscilla Presley, 66, became a grandmother at age 44. Presley is the grandmother to daughter Lisa Marie's four children. When Presley's daughter gave birth to twins in 2008, the grandmother beamed, telling People, "It's been a real delight entering into the room and seeing these two little babies -- it's been pretty terrific."

Singer Donny Osmond, 54, became a grandfather at age 47 and is a grandfather of two.

Actor Tony Danza, 60, became a grandfather at age 54. Danza told People in 2005 after the birth of his grandson: "There's a certain feeling of accomplishment that there's another generation," said Danza. "But the most exciting thing is watching your son be a dad."

Singer Lionel Richie, 62, became a grandfather in 2008 when daughter Nicole Richie and husband Joel Madden welcomed their first child. Richie is now a grandfather of two. When Richie's first granddaughter was born, he was still adjusting to his title as a grandfather. "While it may take me a moment to adjust to being called grand dad, I am extremely happy and proud of Nicole and Joel," Richie told People.

Donald Trump, 61, is father of five and grandfather of two, with two more grandchildren on the way.

Actor Kiefer Sutherland, 45, became a grandparent in 2006. The actor's grandchildren call him "Grampy," according to CBS.

Musician Steven Tyler, 64, became a grandparent at age 56 when daughter Liv Tyler gave birth to her son in 2004. This information has been corrected. We had originally misstated Tyler's age at the time of his grandson's birth.