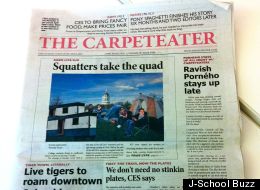 What were they thinking?
Some college newspaper editors have been facing criticism recently after publishing content meant to be satire that pushed the boundaries of good taste.
A Boston University editor resigned for an April Fools' Day edition that mocked date rape. Students at Mizzou renamed their newspaper The Carpeteater and faced an outcry from students and faculty.
Check out our list below:
April Fools Fails And Other Student Newspaper Mess-Ups
The University of Missouri's student newspaper, The Maneater, had an April Fools' joke that didn't go over well. They renamed themselves The Carpeteater. They also included a section called "Whore 'Um." "Derogatory profanity toward women isn't funny. It isn't satirical. It certainly isn't journalism," wrote an angry Mizzou student. The editor-in-chief resigned and the paper canceled the 2013 April Fools' edition. Photo Credit: J-School Buzz via College Media Matters

A student magazine decided to remove the phrase "F*ck Cats" from their April Fools' Day edition. Why? Some school administrators at RIT were concerned with the word "f*ck." Others raised a concern that "cats" might be interpreted as a crude reference to female anatomy. Chris Zubak-Skees explained on the Infinity Quad blog: Heath Boice-Pardee, associate vice president for Student Affairs, said he became concerned with the content of the cover, which said "F*CK CATS," ... After readers expressed confusion about "cats" as a reference to women, I followed up with Boice-Pardee, who confirmed that there was a concern by some that the reference was to not just women, but rather a term for female anatomy. "This was not my interpretation," he said, but it was a concern others had. The cover was eventually released with a photo of a cat and the words "rub and sniff."

College officials are investigating the Daily Medium -- a weekly student-run newspaper funded in part by the university -- for a pro-Hitler editorial, published in its April 4 issue, and attributed to someone who didn't write it. The column, "What about the good things Hitler did?," was attributed to Aaron Marcus, even though Marcus didn't write it. Marcus is a student and columnist for the independent student paper The Daily Targum. He also happens to be Jewish and lost family in the Holocaust. "To say anything praiseworthy of someone like Hitler and to have people actually believe it was coming from me, even in a satirical manner, is just really painful for me and my family," Marcus told My9TV.

Boston University's student newspaper changed its name to "The Disney Free Press," and ran an article about a date-rape incident involving "the fairest of them all." "Seven frat dwarves were arrested last night after they allegedly drugged'' and sexually assaulted [a female BU student]," the paper wrote. Students at the school didn't think it was funny, especially after multiple recent sexual-assault incidents involving BU students. Not to mention that the article was published the week following the anti-rape event, Take Back The Night. "We want to apologize for our ill-thought-out April Fools' issue and are so sorry for offending our readers," The Daily Free Press editors tweeted. The editor later resigned.

Devon Edwards, a student journalist and editor of Penn State's Onward State, mistakenly reported in January that Joe Paterno had died, when in fact JoePa was still alive at the time. In what some considered an ill-conceived joke, Onward State "mistakenly" tweeted that Edwards had passed away.

The Ram, a student paper at Fordham University, sparked outrage with is a column titled "Jesuits Gone Jewish" in their April Fool's edition. They joked that the school would become Jewish, and used a byline of "Herschel Q. Goldberg, staff investment banker."

Two male British university students went into hiding because of reaction to their piece in The Beaver, a student journal at the London School of Economics. In a satirical sex column called the Agony Uncles published in November 2011, they told an imaginary reader to punch his girlfriend in the back of the head during sex. They also said "It's not rape if you shout 'surprise.'"

In 2010, the Advocate, a student paper at the University of Colorado Denver, caused an uproar with its April Fools' Day issue. The students found several articles offensive, including "In the search for healthy eating, don't overlook the toilet," "Dear white guys," and "Enjoy Obamacare if you like payin for illegal Mexicans" The students were mad enough to actually hold rallies demonstrating against the articles, which were all written as satire. The writer of the "Enjoy Obamacare" column said later, "I will not apologize for calling that racism out, nor do I regret calling it out through satire, a subtle yet effective means of social commentary."

The Iowa State Daily canned its "Just Sayin'" feature after running editions that featured anonymous comments from readers like "Just had a staring contest with a squintey. They are fearless" and "I just saw a squintey inside a building. ... They have started the invasion." The editors thought, at first, they were referring to squinnys, or ground squirrels. Only after an uproar accusing the student paper of publishing racist material did they realize the problem. The EIC apologized and they got rid of the "Just Sayin'" feature.