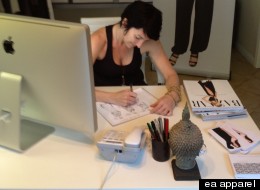 One of the reasons I started my website, Marlothomas.com, is that I wanted a place where women could come together and dream. Women should know that they don't have to hang on to an old dream that has stopped nurturing them -- that there is always time to start a new dream. This week's story is about how one woman bounced back from a devastating layoff, and despite a rough start, ended up living her dream. -- MT
By Lori Weiss
Growing up in the small rural town of Stuttgart, Ark., Liz Ratcliff was the ultimate girlie girl. While her older sister spent her days down by the river, collecting tadpoles and making mud pies, Liz was inside -- dressing her dolls in resort wear, decorating her walls with photos from her mother's fashion magazines and directing her architect father on how to run a miniature train through Barbie's Malibu Dream House. She was just waiting for the day when she was old enough to make everyone feel as beautiful as Barbie.
"My friends and I would play dress-up and they all wanted to be the shoppers," Liz recalled with a twinkle in her eye. "I thought that was great, because I just wanted to be Coco Chanel!"
But a series of jobs in the spa industry would ultimately take Liz in a different direction, putting her on the fast track to a fancy job with a high-end hotel chain in Los Angeles, as the director of spa development. She was making women feel beautiful -- just not quite the way she had imagined.

"I'd see people light up after their first massage or facial," she said, "and it was as if their lives had been transformed. I know it sounds crazy to say that something as simple as buying a new eye cream can change your life, but clients were taking the time to love and honor themselves -- and that can be pretty powerful."
Liz quickly became known as a trendsetter, working with world-famous interior designers -- including Philippe Starck and Kelly Wearstler -- and opening innovative urban spas and resort properties around the world. Her reputation was so invincible that even when the recession began crippling the tourism industry, few people believed it could ever touch Liz. Until it did.
"I watched four of my friends lose their jobs," Liz remembered, "and dozens of people at my own company were let go, but I thought the worst was over. Then I got the call. It was like going through a drive-through. They just sat me down and said, 'It's the economy.'"
"I had the wind knocked out of me," Liz continued. "So I got in my car and just started driving, not even knowing where I was going. And when I finally got home, I didn't want to leave. I was like a recluse in my house. Nothing motivated me. I'd try to get pumped up, but I wanted to feel sorry for myself -- and I did that really well."
And to make matters worse, fashionista that she was, Liz realized she didn't have a thing to wear.
"I wasn't going to put on a pencil skirt and a pair of Louis Vuittons to sit around my house or run out to get a cup of coffee," Liz said. "So that gave me even more reason to never leave home. You know how you see cartoon characters throwing everything out of their drawers -- screaming that they have nothing to wear? Well, that was the scene at my house."
But it was in the middle of that mess that Liz found her way back to her dream. Indeed, it was only when her world (and dresser drawers) were turned upside down, that she would begin to find her way back to who she always wanted to be.
"When my girlfriends finally got me out of the house, I started paying attention to what people were wearing," she said. "I saw a lot of schleppy sweats and Juicy Couture. There just wasn't much out there for women in their forties."

So as Liz began thinking about what was next, she found herself, once again, pulling photos out of magazines and sketching pretty pieces that she wished she had in her wardrobe. Recruiters were calling, trying to seduce her back into another spa job, but all she could think about was her newly awakened desire to design.
"Something just told me to keep moving forward," Liz explained. "It would have been much easier to go back to what I knew, but I thought if I could create a collection that you could put in a suitcase and travel with easily -- one that you could dress up or dress down -- it would actually do really well in spas. And I knew if I created something I believed in, my former colleagues in the spa industry would believe in it, too."
But as Liz quickly learned, it's one thing to dress Barbie and an entirely different thing to dress real women.
"I went to Magic, which is the biggest fashion trade show in the world," she said, "and it was the most overwhelming experience of my life. There were 10,000 booths! I needed a road map to get around. But I kept asking questions. If you ask for help, people will give it to you. You just have to admit you don't know everything."
With a little guidance, Liz refined her sketches and found a factory that would take those designs and transform them into patterns and samples. Starting out small, she created only seven pieces, and instead of buying full bolts of fabric, she bought remnants of the softest fabric she could find -- a knit spun from bamboo.
Liz named her company ea apparel, those initials signifying that her clothing can be worn "everywhere" and "anywhere." And then she went directly to the world she knew best, shopping her samples to spas.
"I got my first order from the Four Seasons Westlake in California -- a $25,000 order -- and I went straight into production," she said laughing, "which I quickly learned is what you're not supposed to do. You're supposed to wait until you have lots of orders! In fact, I was in such a hurry that when the factory called and said they needed to use a heavier fabric, I said yes, sight unseen.
"The fabric turned out to be even more fabulous, but because of shrinkage, each piece required a little bit more length -- which they assumed I knew. But I didn't. So I never changed the measurements on the order. When the jumpsuits arrived -- my most expensive signature piece -- they looked like they were designed for flood waters."
By that point, Liz had already gone through her savings and sold her car to pay for a very expensive photo shoot of her product line. But she had to fix the jumpsuits, so she cashed out her 401(k).
"I was in. Way in. And maybe that's what motivated me to keep pushing. I was in too far to start looking back."
As it turns out, the extra fabric Liz added to those jumpsuits gave them a unique design, which in the end, made them her top seller.
Today, ea apparel can be found at spas around the world, and this fall, Liz will be introducing a new line, with designs that resemble what her mother used to call her "six o'clock wardrobe" -- pieces that can be worn comfortably out to dinner just by adding ballet flats or a great necklace. And she'll be renaming her company -- proudly -- the Liz Ratcliff Collection.
"Sometimes you've got to be in your sh*t, to get out of it," Liz said, knowingly. "Bad things happen to good people all the time. The question is whether you let that define you or inspire you. Is it a curse or an opportunity? You get to choose."
"Losing my job was the best thing that ever happened to me," she said softy. "I've never been happier than I am today."
You can learn more about ea apparel by visiting http://www.eaapparel.com/.
Launching A Clothing Line
Liz watched her concepts come to life when her first samples arrived. When she first launched her line, ea apparel, it included only seven pieces. Today, she's ready to launch her second collection under her own name.

Here, Liz is with her first celebrity client, Heather Locklear. They met when Liz launched her line at the Four Seasons Westlake. Heather liked the jumpsuit so much, she came back and bought seven of them for her girlfriends.

Liz (left) joins friends David Pirrotta (center) and Valerie McMurray (right) at the opening of Malin & Goetz, a boutique in Larchmont Village, California, that sells spa products.

Liz made a lot of sacrifices to launch her clothing line. For one, she sold her car to pay for her first photo shoot.

The stage is set for Liz's very first photo shoot. Hundreds of shots were taken to create her look book and website.

Liz's dream of becoming a fashion designer began when she was young. Her mother, Betty, helped her sew clothes for her Barbie dolls, and her architect father, Chuck, ran a miniature train through Barbie's Malibu Dream House.

Liz celebrates the launch of her line with fiancé Nick Clayton.

Liz was known as a trendsetter in the spa industry and was frequently asked to speak at conferences. But here she is, doing her first speaking engagement as a fashion designer at the Green Spa Network at the Sundance resort.

Here, Liz's line is featured at Pop Physique, a hip cardio ballet studio in Silverlake, California.

Liz introduces her clothing line, ea apparel, to spa directors from around the world at the International Spa Conference in Las Vegas.

Liz in her home office, hard at work on her second collection, which will debut as the Liz Ratcliff Collection.

After Liz lost her job, she began thinking about the road not taken and started sketching again. These are the original sketches that eventually became patterns for her clothing line.

When you're just starting out, you do it all. Here, Liz packs orders for a customer that found ea apparel online.

Spas around the world now carry ea apparel. Here, in her home office, Liz makes sure every piece is right before it ships off to a faraway destination.

One of the benefits of working from home is that Liz always gets a little help from her furry assistant, Parker.

Liz's new collection was inspired by her mother's six o'clock wardrobe -- pieces that she could dress up with a pretty necklace or dress down with ballet flats. This is the Caroline hand-painted graphic kaftan.

Jumpsuits are Liz's hottest-selling item, which is why this Lena midnight-gray halter jumpsuit will be featured in her new collection.

Liz designs for comfort and style, using ultra thin and luxurious fabric. Here, she pairs her Bahia black harem pants with the Tabietha black tissue jersey top.

Liz was always a girlie girl. Here she is, center, all dressed up for her 4th birthday party. With a little help from mom, she even made the bow herself.

Liz always loved jumpsuits -- even when she was 5. And now they're a prominent part of her collections.

Here, Liz's mom is wearing one of her many "patio dresses" in 1974. Liz cites her mother's casual evening attire as the inspiration for her kaftan designs.
Add Marlo On Facebook:
Follow Marlo on Twitter:
Weekly Newsletter

Sign up to receive my email newsletter each week - It will keep you up-to-date on upcoming articles, Mondays with Marlo guests, videos, and more!

Sign up here