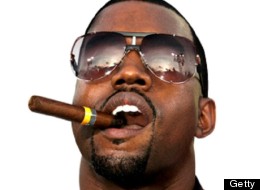 As part of a special three-part series featuring must-have tech gadgets for the summer season to help elevate your game, HuffPost BlackVoices presents "Next Level."
Each feature will highlight 10 different celebrities, each with his or her own unique personality profile that aligns with related gadgets.
This week we take a look at four chart-topping musicians who have all been known to move the needle of popular culture.
And as an added bonus, Pop Culture Editor Brennan Williams has created a 18-track Spotify playlist below to complement each musician's suave persona.
When it comes to elevating his game to the next level, Kanye West has admitted to using the "Kobe System." But judging from the controversial MC's obsession for all things luxe, we decided that it was only right to place him in the fast lane of gadgets to assist in watching his "throne."

Behold the debut watch from the partnership between Ferrari and luxury Swiss watch manufacturer Hublot, dubbed "The Big Bang Ferrari Watch." As West's fellow partner-in-rhyme Jay-Z declared on their single "Otis," the timepiece is considered to be on "new watch alert." More Info.

Robin Thicke's knack for smooth sounds has not only led to multiplatinum success, it has also established the singer-songwriter as one of the most suave artists in the game. To help keep Thicke's swag in perspective, we found the ideal portable gadget that might also prove useful for wife, Paula Patton.

There's no need for the "Love After War" crooner to schedule a spa appointment when he could have his own portable spa. The Blanc 5 Infinity spa features three ergonomic seats, 30 power-flow jets and a Bluetooth entertainment system that allows soakers to connect any compatible electronic device. More Info.

Known as one of the past decade's hottest trendsetters, Pharrell Williams is no stranger to gadgets. Due to the producer-designer's past collaborations with high-end fashion label Louis Vuitton and A Bathing Ape, we discovered the ideal device for Skateboard P.

In between business meetings and studio sessions, Williams can tap into a limited edition Louis Vuitton Playbutton, which combines the simplicity of a button with the technology of an mp3 player. More Info.

Since stepping onto the music scene in the mid-'90s, Maxwell has made countless fans swoon to the grooves of his sensual hits. So much so that some refer to the R&B singer's catalog as high-quality romance music.

With that in mind, enjoy an intimate nightcap with the Krups EA82 Espresseria Automatic Coffee & Espresso Machine. Unlike other devices on the market, the Krups EA82 steams milk and water for a perfect blend of java. Who would've thought "Til The Cops Come Knockin" would go with a skim mocha half-caff? More info.