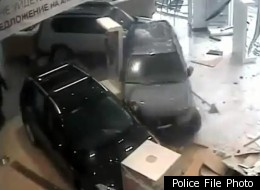 A Russian man, disgruntled by a 20 minute inconvenience at a car dealership, went on a rampage destroying several cars and demolishing a showroom floor, police said.
The off-road rage incident occurred Saturday at the Pelican Cars auto dealership in Northern Moscow. A man, identified only as a local doctor and father of two, had come in to pick up his vehicle, which was at the dealership for repairs. The man was instructed to wait for an employee to retrieve the vehicle.
The 35-year-old obstetrician initially waited calmly in a reception area but after a 20 minute wait, he became increasingly angry until his temper reached a boiling point. Rather than seek out an employee for assistance, the man went outside and got into the dealership's loaner car, Interfax.ru reported.
Video surveillance cameras inside the dealership captured the Grand Vitara burst through a showroom window and smash into several vehicles on display. The car, which looked more like a motorized battering ram, repeatedly smashed the cars, a structural support pillar and miscellaneous showroom items.
This destruction continued until the vehicle became wedged in an office at the back of the showroom. At that point security guards pulled the man from the vehicle and restrained him until police arrived on the scene.
According to Russia Today, no one was injured during the attack, which lasted approximately three minutes. Authorities said they are thankful the cement pillar that had been rammed several times did not collapse. The pillar supports the building's second story and the outcome could have been devastating if it had given way because the dealership is located in a busy shopping plaza.
Three brand new cars were destroyed in the rampage, as was everything on the showroom floor. Preliminary figures indicate damages are excess of a million rubles, or about $33,700.
The dealership issued a statement to the Telegraph stating they were shocked by the incident. They also indicated there were likely other issues going on in the man's life that contributed to his alleged actions.
"It is doubtful that the issue of waiting for a car for 20 minutes from the time appointed led the client to be in such a state," the statement said. "Further conclusions must be left to the police, prosecutors and courts, and possibly psychiatrists."
The doctor faces a variety of criminal charges and is currently on house arrest.
CAUGHT ON VIDEO:
Motley Crue frontman Vince Neil became aggravated by a fan in the front row at his concert in New Mexico on Dec. 7, 2012, and tried to punch him -- but he missed.

A former doctor of the year has pleaded not guilty to driving drunk and under the influence of prescription drugs, following this spectacular car crash in Boston.

An officer with the El Cajon Police Department is shot right in front of a news camera on August 21, 2011. The entire event is caught on camera.

WARNING: The video below contains vulgar language and may not be suitable for some viewers. Mariah Pyatskowit, a Wisconsin student and mother of two who once tried out for Playboy magazine, recently had her day in court for a profanity-laced shopping rant that went viral online last year. She was convicted of disorderly conduct and ordered to perform 40 hours of community service, according to her attorney, Brad Priebe.

VIDEO (WARNING: Graphic physical violence and language) This video, (scroll down to watch) posted on YouTube by Marcus DeWayne Pace of Huntsville, Texas, shows a single-round brawl between an unidentified male in a white shirt and a street performer dressed as Batman.

The animals rights group PETA released a shocking video today that allegedly shows workers at a dairy factory farm brutally abusing a number of livestock. The video was allegedly taken in late 2011 and early 2012, during an undercover investigation of Adirondack Farms, LLC, in Clinton County, New York. According to PETA, their investigator discovered workers routinely used poles and canes to hit cows in the face, udder, torso, hindquarters and limbs when leading them around. A manager of the facility was also allegedly caught on video as he repeatedly electro-shocked a cow in the face. The same manager, according to the animal rights group, called another cow a "dumb bitch," jabbed it in the ribs with a screwdriver and used a skid steer to drag it approximately 25 feet.

A lioness at the Oregon Zoo thought she found herself the perfect meal when an Oregon family brought a baby zebra to her enclosure.

A company in Kasota, Minn., took home demolition to the next level when they used a tank to raze an abandoned house.

A woman's near-death experience when she reportedly falls asleep behind the wheel of a scooter and careens into oncoming traffic.

Raymond Van Arnam, 60, was sentenced by Otero County Magistrate Judge Gene Galassini to spend 30 days in the Otero County Jail for charges related to kicking in the back door of client Melissa Stonecipher's estranged husband's home.

In footage posted April 29 to YouTube -- entitled "Young woman being arrested for nothing" -- Skyler Irene Waite of Alaska argues with a pair of officers over a small amount of marijuana they spotted when responding to a Kodiak home for a medical emergency. The scene became physical when Waite, who says she was reaching for the door, brought her arm closer to one of the troopers.
Related on HuffPost: