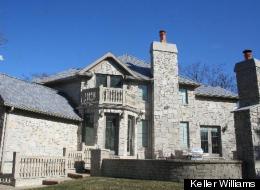 Chicago Bulls guard and small forward Kyle Korver was married last summer, and now he's got another big life change in the works: a move from his 16-room mansion in Glencoe.
"They're thinking where they want to build, and they would rather downsize here and have a townhouse for the two of them," listing agent MaryJane Serene told the Chicago Tribune. "They just decided it's time to start thinking about where they wanted to live longer-term."
The athlete listed the home last month with a price tag of almost $1.5 million.
The house, which Chicago Curbed describes as a "McMansion," features five bedrooms, five full baths and a finished basement, according to the listing. Highlights include a sauna, heated marble floors, three fireplaces and surround sound scattered throughout.
Is the home a slam-dunk? Check out photos below and tell us in the comments: