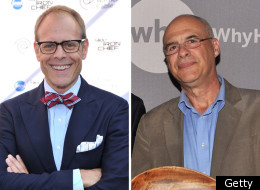 Sorry, food television stars: New York Times columnist Mark Bittman probably isn't a fan.
According to Capital New York, the scribe behind The Minimalist told fellow food writer and former Times critic Ruth Reichl so much in an interview, calling today's food television programming "all competition, cleavage, nastiness."
Both chefs agreed that cooking and television don't have to -- and probably shouldn't always -- go together:
"This whole thing 'in order to cook, you have to be a chef' has got things all backwards," Bittman said. "The vast minority of people who cook wind up being chefs. No where else in the world, except for the West right now, would anyone ever think that cooking and being a chef was synonymous. There is that tendency around television. Books are a small part, television is really -- if 'blame' is to be cast television is to blame for that."
Bittman already seems to have ruffled a few feathers with the comments, including Food Network star Alton Brown, whose show, "Good Eats," often delved into the science of cooking, the history of various foods and uses of an assortment of cooking equipment.
On Thursday, Brown took to Twitter to air his grievances:
@altonbrown

Alton Brown
To the thousands who've told me you learned to scramble eggs from Good Eats, the shocking truth: you didn't!
http://t.co/2meO9Gty
@altonbrown

Alton Brown
Very good cooks who are employed as "chefs" rarely refer to themselves as "chefs". They refer to themselves as "cooks".
@altonbrown

Alton Brown
The worst food you'll ever eat will probably be prepared by a "cook" who calls himself a "chef". Mark my words.
@altonbrown

Alton Brown
I guess I should feel grateful that Mark Bittman has erased any illusions I may have had regarding Good Eats as a teaching vehicle.
@altonbrown

Alton Brown
Because we now know definitively that you can't learn cooking from television. Dang.
Check out Brown's Twitter feed for more disgruntled tweeting.