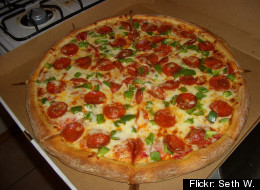 More Americans than ever are eating pizza, according to data from consumer research firm Technomic. A full 41 percent of respondents to a Technomic survey said that they now eat pizza at least once a week, up from 26 percent two years ago.
Tiffany Hsu of the LA Times attributes the change to increased variety in the pizza sphere. The quality of frozen pizzas has improved somewhat in recent years, and customers have been enthusiastic about take-and-bake options from both supermarkets and specialty pizza chains.
Moreover, major chains, which were said to be ailing just over a year ago, have made great strides in innovation, making an effort to appeal to new customers on the high end and the low. They've also employed some clever marketing tactics to spread the word about these new offerings.
Pizza's become such a big cultural trend, someone should start a museum dedicated to it! A pizza museum. Oh wait.