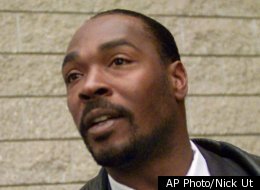 In a statement to the Los Angeles Times Wednesday, Rodney King compared his 1991 beating at the hands of Los Angeles police to Florida teen Trayvon Martin's death.
The horrifying sound of a young black male screaming for his life on a 911 call reminded me of my horrifying scream on a videotape 20 years ago ... At that time, I thought I was going to die. Very, very gratefully, I survived. Unfortunately, Trayvon Martin did not.
King released his statement through a publicist shortly after Florida State Atty. Angela B. Corey announced second-degree murder charges for George Zimmerman, the self-appointed neighborhood watchman who shot and killed the unarmed 17-year-old while he was walking home from a 7-Eleven.
Read the rest of King's statement on the Los Angeles Times.
His statement comes just a few days before the 20th anniversary of the Los Angeles riots, which began almost immediately after the officers who were filmed beating King were acquitted Apr. 29, 1992.
The injustice of the verdict in King's case has been compared to Martin's shooting in recent weeks. Demonstrators across the country have decried the Sanford Police Department's "sloppy" work and Florida's "Stand Your Ground" gun law, which legal experts have said could shield Zimmerman from any liability in Martin's death.
Shortly after a Los Angeles rally for Martin Mar. 22, Rev. K.W. Tullous, a local pastor and the Los Angeles representative for Rev. Al Sharpton's National Action Network, told The Huffington Post that "from Rodney King to Trayvon Martin," it was clear that black voices "still need to be heard" on the issue of violence against black men.
"Today, it's Trayvon Martin," Rev. Tullous said. "Tomorrow, who?"
See The Slideshow For More Photos Of The LA Rally On Thursday, Mar. 22:
Sonia Mongol poses with her three daughters, ages 11, 10 and 8. They are wearing hooded sweatshirts and carrying signs that say "I Am Trayvon." Photo by the Huffington Post

Damiek Barrow with his 14-year-old daughter and 13-year-old son. His son came clutching a bag of skittles, one of the objects Martin was "armed" with on the night George Zimmerman confronted him. Photo by the Huffington Post

High school students Stephanie Valerio and Duane Madison attended the rally with their AP English teacher, Abigail Cirelli (not pictured). The pair attend College-Ready Academy High School #7. Cirelli taught a class on the media coverage of Trayvon Martin's death; her students compared two articles published by the LA Times on March 19 and 20. Photo by the Huffington Post

LA resident Brittney Tyler brought her 4-year-old daughter to the rally and both are wearing hooded sweatshirts. Tyler wanted her to see that "people can unite." Photo by the Huffington Post

Rusty Feuer, a Northridge resident, has been part of her neighborhood watch for years. "This stand your ground thing is ridiculous," Feuer said about the controversial Florida law that seems to have protected George Zimmerman from arrest. Photo by the Huffington Post

Carson resident Erik Ellis wears his custom made "Do I Look Suspicious?" hooded sweatshirt. He had it made on the day of the "Million Hoodie March" in New York City. Photo by the Huffington Post

Siskimani (right) looks over her friend's shoulder as she makes a sign that says, "Prosecute Zimmerman... NOW!" Siskimani has a 21-year-old son. She says she and his husband have taught him that, along the way, they "educated him about his history, so he understood the world he was placed in." Photo by the Huffington Post

Shirley Husar, founder of urbangamechanger.com and hiphoprepublican.tv, said that people were coming together across political lines to unite for Trayvon Martin's cause. Photo by the Huffington Post