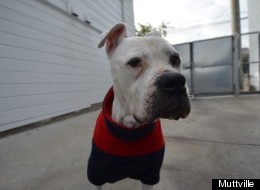 This week, the HuffPost SF's pet adoption series has a new batch of animals begging you to take them home.
Our current array of dogs comes from Muttville, a senior dog rescue that saves dogs more than seven years old at shelters all over California. Many times Muttville is the last resort for dogs that have been abandoned or abused by their previous owners.
(SCROLL DOWN FOR PHOTOS)
If you want to meet the dogs in person, the Muttville team will be at Dogfest in Duboce Park this Saturday, April 14 from 11:00 – 4:00. The event is open to both two-legged and four-legged friends and includes jump houses, face-painting, carnival games, a raffle, auction items and food. All benefits go to McKinley Elementary School.
Muttville also sponsors a "Seniors for Seniors" program, where the adoption fees are waived for senior citizens who want to take someone their own age home.
All the dogs featured are spayed or neutered, up to date with vaccines, and are treated for other medical and general care before being made available for adoption. The adopters are set up with a complete welcome kit.
If you're looking for a slightly younger crowd, next week may be your lucky chance to find the newest addition to your family.
Take a look at some of the adorable seniors available for adoption below:
Angel is a ten year old, female, medium size, Pug.

Bailey is a twelve year old, small, male, Spaniel mix.

Chaka is a thirteen year old, large male, Pit Bull Terrier/ Labrador Retriever Mix.

CJ is a ten year old, medium sized male, Pit Bull terrier mix.

Coco is a ten year old, large female Labrador Retriever.

Jack is an eight year old, small male, Cairn Terrier/ Schnauzer mix.

Malone is a six year old, large male, Bassoodle (Basset Hound/Poodle mix).

Miss Trudy is a ten year old, large female, Aussie mix.

Raven is a ten year old, small female Border Collie.

Twiggs is a ten year old, small male, Poodle mix.

Wheda is a seven year old, medium-size female, American Bulldog.

Wiley is a medium-size male mutt.