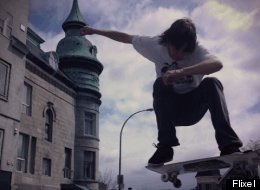 Flixel is a new, totally far-out app for the iPhone that allows you to create some pretty freaky moving pictures using nothing but your finger.
Inspired by Cinemagraphs, you take two seconds of video with your iPhone camera, which the Flixel app then turns into a still image that you can manipulate into a partially-animated GIF; you choose which parts of the image you want to animate by rubbing your finger over that section of the photo, and -- voila! -- it moves.
It's easy, it's fun, and it results in some pretty strange, hypnotic Flixels populating the fledgling photo app's feed.
We asked Mark Homza, the co-founder of Flixel -- first released on the App Store just three weeks ago -- to choose his favorite "living photos" created on the app. Here's what he returned: 41 of the most beautiful, hypnotic, and downright weird user-created GIFs you can imagine. Below, check out the best that Flixel has to offer so far; and if you want to try your hand at Flixography, you can download the app for free in iTunes here.
For more photo fun, check out our slideshows of the best photo apps for iPhone and the best Instagram alternatives.
The 41 Best Living Photographs From Flixel So Far
Flixel Founder and CMO Mark Homza makes his daughter disappear (in the cinemagical sense, we hope). Flixel by Mark Homza.

"Trains" are a recurring theme, as you shall soon see.

This Flixel made me thirsty. Thirsty for beer. Flixel by filmblender.

Beware of sparks! Flixel by Josh Dvorak.

This isn't at The Huffington Post, but it might as well be. This is exactly what we all look like while writing. All of us. Flixel by Jayson Potter.

The only way this Flixel of coy koi could be better is if it featured former Chicago Cubs catcher Koyie Hill. Flixel by Lance Agena.

This guy has a really quiet motion in his shot. Flixel by Bretton Maclean.

Major airtime. Flixel by DanMathieu.

Peaceful. Flixel by Luchito.

Some nice mirror work by the Beethoven of Flixels, a Japanese user named photocliper. Flixel by photocliper.

On a windy day. Flixel by Victoria.

You make my heart sing. Flixel by Xvit.

But who will Flixel the Flixelers? This guy. Flixel by JF Polliquin.

Makin' music. Flixel by The Flixographer.

As I said, trains are a recurring theme. Flixel by photocliper.

Sudden strange craving for unlimited honey... Flixel by photocliper.

Another very steady hand. Flixel by Taliana.

Gatsby believed in the green light. Flixel by joefish.

Literally. Flixel by daneman.

This iPad must be jailbroken or something. Flixel by photocliper.

Man this guy is slow. Flixel by shokeegan.

I want to go to there. Flixel by lance Agena.

Moving parts. Flixel by photocliper.

Again with the trains. Flixel by krissbuddle.

I've been to the Lower East Side, and this is exactly what it's like. Flixel by @WikiRascals.

Anyone else have a sudden urge for cider? Flixel by Mark Mendez.

Paging David Lynch! Flixel by Jay P.

Is it summer yet? Flixel by Duac83.

She's been doing her makeup for hours. Flixel by Mark Homza.

More good, creepy mirror-work here. Flixel by Ken Nickerson.

Puddle of mud(d). Flixel by photocliper.

Ah, peaceful. Flixel by photocliper.

Man this guy is good! Flixel by France.

Pretty sure this is a scene from the apocalypse. Fixel by Christopher Hopkins.

Looks warm! Flixel by Nina Rojkovskaia.

LOOK AT THAT KITTEN Flixel by Anton Ceballos.

Let's go surfin' now, everybody's learnin' how... Flixel by Matthew.

This dude plays hard. Flixel by Philippe LeBlanc.

Did I mention Flixel users love trains? Flixel by Philippe LeBlanc.

I've been to Williamsburg, Brooklyn, and this is exactly what it's like. Plus mustaches. Flixel by Candace.

Stop that, you'll break it! Flixel by photocliper.

Companies insist Instagram will stay the same after Facebook's biggest acquisition ever.