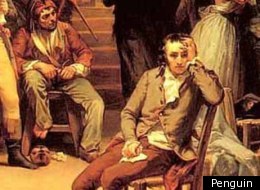 Superstition scholars squabble over the origins of Friday the 13th. Not historically an unlucky day, it was first deemed so in a late 1800s biography of Gioachino Rossini. Still, we'd look out for puddles and banana peels today.
To honor the holiday, we've compiled a list of 13 very unlucky characters in literature -- some comically foolish, others tragically downtrodden.
Who do you think is the most unlucky character in literature?
She's a beautiful art student who is taken captive by Frederick Clegg, a winner of the British football pools who is obsessed with her. Paying homage to "The Tempest," she nicknames him Caliban, and attempts several clever escapes, but is ultimately unsuccessful.

He's fairly optimistic in spite of the disappearance of his parents and sister, his terrible meal routine and oppressed thoughts. Still, he's captured by the Thought Police, leading to a betrayal of his lover.

She suffers from a heart condition, but is nevertheless surprisingly elated when she hears of her husband's death due to a railway accident. She rejoices that she is finally "free," but when she discovers that he has survived the accident, the revocation of her freedom causes her to experience a fatal heart attack.

Her garrulousness may be irritating, but we still find it rather unlucky that she's warned about a serial killer named "The Misfit" while at a truckstop diner, and suffers a fatal run-in with the criminal a few short pages later.

He maintains a steady job as a travelling salesman--even though he finds it dismal--in order to support his family. In spite of this, he wakes up one morning to find that he's been transformed into an insect. In case this wasn't unlucky enough, he must witness the degradation of his family as a result of his new state, and their resentment towards him for being a burden.

Protagonist Ammu begins a love affair with an untouchable, Velutha. When they are discovered, Ammu lashes out against her children, who decide to run away with their cousin, Sophie Mol, who drowns in the process. Although Ammu is in part to blame for the tragedy, Velutha's status as an untouchable results in his arrest and punishment.

Mr. Zero's job is simple: he's an accountant at a large company, but his role becomes obsolete when he's replaced by an adding machine. Upon hearing this news, he strangles and kills his boss. He's given a sentence of death, and in his afterlife in The Elysian Fields he quickly takes up a job tediously similar to the one that led to his death.

He's a fisherman who has gone 84 days without catching any fish--we consider that pretty unlucky. On top of that, his epic, exhausting battle with a marlin lures in sharks but is ultimately unsuccessful.

He strives to be strong and provide for his family, but an accidental gun shot at a funeral ceremony kills a villager and he is banished. Upon his return, he discovers the presence of outsiders and achieves nothing in his attempts to win back the village. Finding this news devastating, he hangs himself--an act that ruins the reputation he spent his entire life trying to uphold.

n top of suffering from acute hepatitis, Mr. Chiu is unjustly arrested after an altercation with a police officer who harasses him. Though this is an unfortunate turn of events, Mr. Chiu gets the last laugh in the classic short story.

Lavinia suffers one of the most brutal crimes in literature -- after being raped by Demetrius and Chiron, the duo cuts off her tongue and hands. Her father is informed that a man should kill his daughter if she has suffered such a crime, so he stabs her at the dinner table.

Darnay is a moral man, but the revolutionaries don't see it that way due to his former aristocratic status. Although he is ultimately saved from the guillotine, he must first suffer years of trials and imprisonment based on a false accusation.

An inheritor of fukú (Dominican for super rotten luck), Oscar is picked on in grade school and can't seem to lose weight even if he tries. He's always pining after girls who enjoy his company but don't love him back. His infatuation with Ybón, a Dominican woman who is deeply involved with a powerful and harmful leader, does not end in his favor.