Gia Coppola, Sofia Coppola's Niece, Makes Short Film 'Writer's Block' (VIDEO)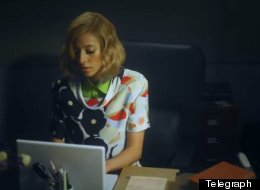 The Coppolas are hardly new to the fashion film scene (isn't Marie Antoinette just a feature-length version of a fashion film?), but Sofia's niece Gia Coppola is relatively new to the film scene in general. The 22-year-old filmmaker has a handful of shorts already under her belt, but her latest, "Writer's Block" -- a short film for Diane von Furstenberg's Current/Elliot collaboration -- is great insight into what's to come.
The short tells the story of a young, beautiful 20-something screenwriter with impeccable fashion, who, you guessed it, has writer's block. Though an unfair comparison to her aunt, Gia's work is drastically different. The noises and colors are loud, the shooting and editing confrontational. How do you think it compares to her fellow Coppolas? Watch below, and judge for yourself.