This really is a rough week for the Miami Marlins: according to Google Maps, the team's new $600 million ballpark -- which just opened April 4 -- is no longer open.
As first spotted by "Cocaine Cowboys" director Billy Corben, when users search Maps for 'Marlins Park', a Google note pops up saying Marlins Park has "permanently closed." See the screenshot below.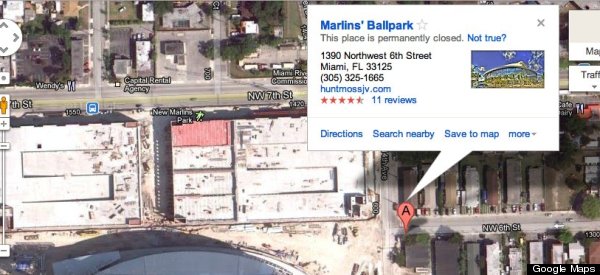 This is not the first time that Google has gotten it wrong on its South Florida maps.
Two years ago, the city of Sunrise went missing for months when the map program mistakenly directed its users to the city of Sarasota -- hundreds of miles away on the opposite coast of Florida, reports the South Florida Sun Sentinel.
Google Maps mistakes have happened in other cities and even countries as well. In one case in San Diego, the website instructed drivers to drive through a canyon after it labeled "Buchanan Street" as a deep chasm of land. And in Australia, Google Maps' directions interpreted a 30-second walk across the street into an 18-walk requiring six turns.
In a case that ended up involving the United Nations, Nicaragua took over miles of Costa Rican soil when Google Maps fudged the borders of the two countries, as reported by Wired.
Here's what you would be missing at Marlins Park if it weren't actually open:
PHOTO GALLERIES
Inside The Clevelander At Marlins Park