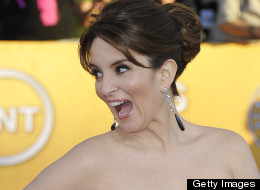 Interns are so hot right now. On the heels of the news that Vince Vaughn and Owen Wilson will co-star in the comedy "The Internship," comes word that Tina Fey will lead "The Intern." Deadline.com reports that Fey is attached to star in the new comedy from writer-director Nancy Meyers.
The film will apparently focus on a platonic friendship between a businesswoman and her 70-year-old male intern. No word yet on which elder actor will star in the film, but apparently Meyers already has someone on her radar. Considering she's worked with Jack Nicholson in the past, just start crossing your fingers now that the soon-to-be 75-year-old actor is Meyers' choice. After all, who wouldn't want to see Fey battle wits with Jack onscreen?
This is the second Meyers project announced in the last day. She's also going to direct "The Chelsea" with star Felicity Jones. That film was written by Meyers' daughter. Whether "The Chelsea" or "The Intern" will shoot first is unclear, but the idea is to start filming "The Intern" in the first quarter of 2013.
For more on the project, including why Meyers wanted to make the film with Fey, head over to Deadline.com.
[via Deadline.com]