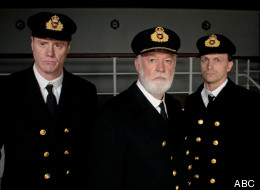 Celine Dion's timeless "Titanic" theme song told us that the heart will go on (and on), but she never mentioned anything about the tributes to that ill-fated ship on the 100th anniversary of the Titanic's sinking. (Seriously -- we get it.)
To mark the occasion, James Cameron's 1997 Oscar-winning Best Picture "Titanic" got re-released in 3D; there were new forensics investigations conducted on "Titanic: The Final Word" on NatGeo, the channel that's also hosting a nine-hour Titanic-themed marathon of specials and documentaries on the anniversary, Sun., Apr. 15; and now we have "Titanic," a four-part miniseries (pictured, airs Sat., Apr. 14, 8 p.m. ET and Sun., Apr. 15, 9 p.m. ET on ABC) from "Downton Abbey" creator Julian Fellowes. And that's just the tip of the iceberg ... pun very much intended.
But the anniversary and influx of creative Titanic coverage only made us more obsessed with the ship at the center of it all. So we're raising our sails and saluting our favorite TV boats, cruise ships, submarines and other vessels (plus, their famous passengers, like Ryan Gosling).
Just sit right back (and click into our gallery) and you'll hear a tale, a tale of quite a few other famous TV boats. Ahoy!
In Season 3 of "Lost," it looked like our desert island survivors from Oceanic flight 815 were finally going to get rescued when people from a boat a few miles off shore made up a few lies. Desmond had his hopes up that the boat was there thanks to his long-lost love Penny, but when a quick moment on the right frequency proved otherwise, Charlie sacrificed his life to save Des and his friends. His Sharpie-scrawled message left an indelible image right before his sad death: "Not Penny's Boat."

Bobby Cobb's boat has been the site of many memorable "Cougar Town" moments (and of course, the deck of the Jealous Much? makes for a fine Penny Can launch site). Once the Cul de Sac crew actually attempted to put the parking-lot bound boat in the water. Spoiler alert: It sank. Still, the beat-up Jealous Much? is a raffish reflection of Bobby's party-dude personality; it may not be super-spiffy, but that plucky little boat has a lot of heart.

The site of lust and spontaneity from 1977-1986, the Pacific Princess never failed to sail. In fact, the show "The Love Boat" was almost entirely set on the romantic cruise ship.

Yes, it seems that "Revenge's" Jack Porter and Emily Thorne (formerly Amanda Clarke) really are two ships passing in the night, which is fitting since Jack named his own ship Amanda after his childhood crush. Even if he's taken Fauxmanda out for more cruises, we know that eventually he'll realize that the real deal is right in front of him.

Life on the Bering Sea ain't easy, and fighting the elements and your rival boats for the best crab haul often means major drama on the open water. We've seen deaths on the show before, but when Captain Phil Harris died in 2010, the funeral and tribute special that aired in his honor reminded viewers that no matter how much they fight, all of these guys are truly a family, and the boats are their homes.

Considering this turn of the century series took place on a creek, it's not surprising that there was no shortage of sea vessels. In the first ever episode, viewers were introduced to the rowboat that Joey (Katie Holmes) uses to cross the creek to get to her best friend Dawson's (James Van Der Beek) house. Then, there's Dawson's dad's boat that he crashes thanks to bad girl Eve. Of course, there was the boat Pacey (Joshua Jackson) restored that he eventually named "True Love." It was the episode that he and Joey set sail to spend the summer together on "True Love" that left Dawson in some very memorable tears. Then, there was Mr. Brooks' boat that Dawson -- the worst boat driver in Capeside -- accidentally crashed. And who could forget the prom aboard the ship or the principal's sailboat that turned up in the Capeside High School pool thanks to quite the impressive senior prank? And that's just barely scratching sea level of the many boats of the "Creek."

As the theme song of this Disney Channel spinoff series states, "this boat's rockin'" -- and indeed the SS Tipton was. After starring on "The Suite Life of Zack and Cody" for three seasons, twins Dylan (Zack) and Cole (Cody) Sprouse headed out to sea on the SS Tipton, owned by hotel heiress London Tipton's (Brenda Song) father. The boys attended Seven Seas High aboard the luxurious cruise ship, which brought them to all over the world. The 87,000-ton Tipton boasted the largest floating shopping center, a doughnut parlor and a putt-putt course, among many of its amenities. But when the boys graduated from Seven Seas High, it docked in New York and was dismantled. Sadly, another boat bites the dust.

Before the Disney Channel was living the "Suite Life," a group of Canadians, including the one and only Ryan Gosling, went to school on a cruise ship on "Breaker High." At the titular high school, students dealt with the same issues they do on land -- dating, friend drama and the like. Gosling, who had just graduated from "The Mickey Mouse Club," played nerdy aspiring ladies man and (as apropos for the Canadian series) hockey enthusiast Sean Hanlon. See the dialogue below for more insight: Sean: You know, under these clothes I have the body of a Calvin Klein model. Girl: Yeah, Kate Moss.

OK, the boat wasn't that awesome, considering it kind of led the tour into their predicament (well, the boat and the weather). But the SS Minnow was fairly sturdy for a charter tour boat, since it did survive the storm long enough to bring them to the deserted island. Interesting tidbit: The SS Minnow got its name in honor of the little fish, but also for Newton Minow, who "Gilligan's Island" executive producer Sherwood Schwartz believed "ruined television."

New Jersey crime boss Tony Soprano owned two boats (The Stugots I and II) that served as an occasional place of refuge on "The Sopranos." Tony even bonded with his son A.J. on the watercraft and taught him how to steer it. But the most notable thing to happen on the vessel was the murder of Salvatore "Big Pussy" Bonpensiero by Tony's crew. Big Pussy was much missed after his untimely exit on The Stugots, but that's the kind of thing that often happens when someone informs on the big fish.

The Scarab 38KV -- or as it was known in the '80s, "Sex on the water" (kidding) -- added to the infinite attractiveness of "Miami Vice" hunk Don Johnson. The crime-solving detective, along with his partner, frequently drove his boat to crime scenes while listening to hip '80s rock music. In real life, Wellcraft presented Johnson with his own Scarab, and he was known for driving it to set.

It's safe to say "The River's" Magus was one of the creepiest ships to grace TV waters in some time. From demons to magic, there was a reason this ship was left abandoned in those murky waters.

Whether you believe it was real or not, "Bethenny Ever After" showed its heroine, Bethenny Frankel, lost at sea when the Maria Cristina's GPS goes down. Without a working map system, Bethenny and husband Jason were stranded until another boat was able to guide them to land.

In the spirit of office bonding, Michael Scott brought the Dunder Mifflin crew aboard a booze cruise on Lake Wallenpaupack in Season 2 of "The Office." And while Michael hoped to get a little bit of leadership training in, everyone ended up getting -- predictably -- very drunk.

OK, so it's not a boat. We know seaQuest DSV is actually a submarine, or if you want to get really technical, a Deep Submergence Vehicle. It was created to police, protect and conduct research on the ocean floor, which in the future is frequented by resource-hungry villains and nogoodniks. Helmed by "Jaws" alum Roy Scheider for most of the first two seasons, the sub hosted some elite Hollywood pedigree, including William Shatner and Charleston Heston, both of whom had guest spots.

Everybody remembers the mammal stars of "Flipper," but what about the mechanical ones? The Ricks rescued many a stranded person with the aid of Flipper and their Thunderbird boat, making the sea vessel just as iconic as the beloved dolphin, even if not nearly as adorable.

Jimmy McNulty pissed his bosses off so much during "The Wire" Season 1 that they transfered him from Homicide to the Marine Unit as punishment. He toiled on a boat, patrolling the Baltimore harbor, fighting seasickness, boredom and the smell of diesel fuel, until he found a dead woman floating in the water and connected it to broader corruption, and human trafficking, on the docks. He pushed for a special investigation into the bodies that would become the central focus of Season 2, and cemented McNulty's status as a pariah among his superiors.

Being on a boat has its merits... especially if you're T-Pain. Off Lonely Island's debut album "Incredibad," Andy Samberg and Chris Parnell stole the show when the boat-centric song premiered on "Saturday Night Live" and people haven't stopped quoting it since.