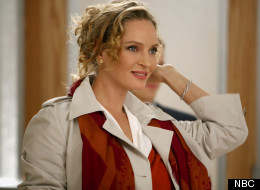 Oh, "Smash" ... we waited so long for Uma Thurman's arrival as the new Marilyn, and that's all you give us? Bor-ing!
But the movie star wasn't the only fashion disappointment this week -- there was another over-the-top costume on "The Voice," an antebellum-era abomination on "GCB" and a serious style slight on a funny lady from "The Big C."
There were a few bright spots too, though, like a b---- in training in a sunny lemon yellow jacket, a new hotshot TV lawyer that's criminally handsome on "Scandal" and more.
Click through the gallery to see all our best and worst TV fashion picks of the week, then share your own in the comments.
Best & Worst TV Fashion, April 6-12
June arrived in New York City all wide-eyed and ready for adventure, and this sunny yellow coat with the cute cinched waist illustrated her positive outlook perfectly. June, post-bitchy new roommate is not quite as optimistic.

What. A. Costume. Sharon Peacham loved getting the Matron of Honor duties for Carlene's annual renewal of vows, and the "Gone with the Wind" theme was not subtle. The parasol was a nice touch, though.

There isn't an unsexy person in the "Scandal" cast, but we're singling out Columbus Short's style and sex appeal this week. His fast-talking lawyer Harrison knows how to wear a suit, and he somehow still looks just as good without the jacket.

So this is what a movie star looks like fresh off a flight after being held up in Cuba? Right. "Smash's" much-anticipated introduction of their new Marilyn Monroe, Rebecca Duvall (Uma Thurman) was pretty anticlimactic. Maybe next week we'll be wowed.

Lemon often goes over-the-top with her ridiculous Southern belle ensembles, but this look is surprisingly demure and fashion-forward. We love the cream lace and the menswear-inspired black bowtie, but it's her red pumps and matching lips that really make the look pop.

What the hell have they done to Andrea? I adore Gabourey Sidibe, but I cannot believe she gave "The Big C" wardrobe department the OK for this look. That top is better suited for the wall of a museum.

"Justified" wrapped up its third season with a stellar finale, but it might be Raylan's sexy cowboy hat that we'll miss the most. Until next season ...

The only bright side of Erin's insanely literal "Walk Like an Egyptian" routine was that it finally forced Cee Lo to give her her walking papers. And the upside of only showing you a photo of her fashion? You don't have to listen to her butcher the song again. You're welcome.