House Tour: YouTube 'Spaces' Creator Chris Young's Manhattan Home (PHOTOS)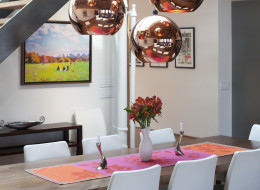 Any New Yorker will tell you space is a luxury. So when Chris Young, the creator of YouTube's newest interior design channel 'Spaces', invited us to tour his three-bedroom, 3,100-square-foot piece of real estate treasure, well, we were definitely impressed. Not just by the size of the home, but also by Young's collection of art, his surprisingly comfortable sense of style and the stunning views from his rooftop patio.
Young's home, which he shares with boyfriend Perry Edwards, resides on the sixth floor of an old factory building in SoHo. Exposed brick walls, wooden beams and industrial shutters maintain a homey charm and character.
"There's room to breathe. We wanted to keep it warm, wanted to keep it practical, but at the same time, we wanted to keep it clean," says Young, adding, "What you don't want to do is live in a museum."
But older doesn't mean out-of-date. Thanks to Parisian designer Noémi Langlois-Meurinne, the apartment has been modernized with clean lines, contemporary furniture and a variety of art pieces, from original photographs of rock 'n' roll icons like The Rolling Stones to steel-mesh nude sculptures to landscape paintings.
"It makes it, in a way, more livable sometimes when everything is not exactly the same," Edwards says. "You want to feel like you can actually hang out in a space and have fun and enjoy the space. You don't want to feel like you can't touch it because it's not meant to be touched."
The best space to enjoy? Definitely, the roof. Up the naturally lit stairway, we find the 800-square-foot rooftop patio with amazing views of the city skyline. We're not surprised when Young tells us he spends a lot of time entertaining guests under his Amish-crafted wooden canopy. However, we are surprised to find out that much of the patio furniture comes from Room & Board. And, the outdoor rugs were found online for only $50.
In the end, Young has created a home that best reflects his personality. And, Spaces wants to convey the same message, says Bradley Werner, an executive from DBG, the production company behind the online channel. "It's a rare person that is actually reflected by just the cookie cutter apartment in a Pottery Barn [catalog]," says Werner. Spaces hopes to inspire viewers by featuring all sorts of interesting homes, from top designers to everyday people.
Watch Spaces on YouTube starting April 16. And, flip through the slideshow to tour Young rock 'n' roll-chic apartment.
All photos by Bobby Doherty
This Andy Warhol print of The Rolling Stones frontman Mick Jagger is one of many rock 'n' roll style pieces in Young's apartment.

When Young and Edwards aren't in the mood for bright, natural light, they can lower the shades, which are electrically operated for easy privacy.

We love the combination of the exposed brick, the modern look of the red mesh wall sculpture and the rock 'n' roll vibe of the Poltrona Frau armchairs upholstered in hairy cowhide.

These Tom Dixon copper shade pendants are one of Young's favorite items in his home. "I think oftentimes when people are designing and thinking about a space, they are thinking about it horizontally. 'What's the floor plan?' 'Where do I put the furniture?' The great thing about these pieces is that we're really looking at the vertical space and taking advantage of these 12- or 13-foot ceilings," says Young.

Initially, Young only wanted two or three pendants, but his designer encouraged him to purchase more to fill up the empty vertical space. We're glad Young took her advice.

The theater curtain painting actually slides to the right to reveal the television. "The idea here was that the television should be available but not necessarily a focal point," Young says.

The Spaces creator also loves this bathroom's Cole & Son 'A Collection of Flowers' wallpaper.

Surprisingly, the hallway is Young's favorite area in the apartment. Walk a little farther down the hall, and you'll find small Murano glass chandeliers, a 25-foot ceiling, a massive David Begbie steel-mesh angel sculpture and an adorable framed photo of Young at age 12 with none other than the late Princess Diana.

This photo does not do the size of this David Begbie 'Neudangel' justice.

A 12-year-old Young offering the late Princess Diana flowers at a music benefit in London.

We love the monogramed pillows in this guest room.

Yes, the massive skylight can be shielded with a flip of a switch -- a great option for late-sleeping guests.

"I didn't want to overdo the space or clutter it up with bookshelves and a whole bunch stuff. I just wanted a nice, clean open space -- very central to the purpose of the bedroom, which is to sleep and to watch TV," says Young about the master bedroom. "What I really like about this bedroom is that it has seven windows in it."

This bedroom chair looks like the perfect place to read a book and enjoy the natural lighting. "We wanted to keep it warm, wanted to keep it practical, but at the same time, we wanted to keep it clean," says Young about home's overall aesthetic.

Edwards: "The girls are envious." Young: "Believe it or not, I think we still need more closet space."

This Amish-built wooden canopy was taken apart, moved piece-by-piece and reassembled on Young's rooftop.

Young wants to expand the roof to build his master bedroom up there, he says. Meanwhile, we're impressed by the $50 rug, which was found online. "The benefits of shopping online is you can search and price compare," he says.

DBG CEO and Spaces creator Chris Young stands on the left with his partner, Perry Edwards.