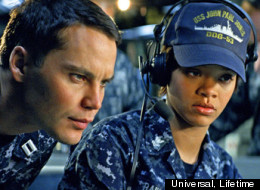 The reviews for Joss Whedon and Drew Goddard's new horror flick "The Cabin in the Woods" have been mostly positive. However there was one critic who wasn't so impressed with Whedon's "nightmare spoof," claiming that it's not as scary as the movies it seems to copy.
"A testament to the wonders of writing under the guidance of crystal meth, this nightmare spoof of everything from 'The Texas Chainsaw Massacre' to the 'Scream' franchise totally defies logic, and pretty much eludes description," wrote Rex Reed of The New York Observer.
Meanwhile, the return of Fox's "Glee" made teenage girls squeal with delight -- and HitFix's Ryan McGee cry out in frustration. As for ABC's "Don't Trust the B---- in Apartment 23"? Well, even James Van Der Beek (playing The Beek himself!) couldn't save this new comedy from The Washington Post's wrath.
HuffPost Entertainment has rounded up the week's snarkiest reviews just for your enjoyment in this week's installment of our "Week In Ouch" series.
This week, critics from Empire to The New York Times and HitFix all had something nasty to say about the latest movies, music and TV shows.
Let us know what you think deserved the harsh critiques, and which ones you think critics should ease up on in the comments.
Krysten Ritter's character in ABC's new comedy "Don't Trust The B---- In Apartment 23" is supposed to be funny, but The Washington Post doesn't get the joke. It seems to come from some tedious, misguidedly post-feminist place of comedic darkness, where the only kind of funny is the selfish kind, and one woman mistreats another with the specific goal of "improving" her by breaking her into tiny pieces.

When the funniest line in your movie is delivered by Snooki, you know that you have a problem. The New York Post's Lou Lumenick thought "The Three Stooges" remake wasted its talent. Nothing that happens in this long-awaited, sloppily sentimental and utterly pointless "The Three Stooges" is actually anywhere near as amusing as the history of the film itself.

When you go to see "Battleship," don't expect anyone to say the phrase, "Hey, you sunk my battleship!" You can, however, expect someone to say, "Let's see if we can buy the world another day!" Yeah, "Battleship" is one of those movies, and according to Empire magazine, it's a total miss. Battleship is an event movie so lunkheaded -- both in concept and execution -- that it's hard not to suspect director Peter Berg of playing a prank.

It's hard to believe that after the ads for Jennifer Love Hewitt's new Lifetime dramedy caused such a stir the show would scream anything but sex, but according to The New York Times, "The Client List" is anything but sexy. It's hard to imagine a less sexy show about prostitution. Based on its first two episodes, Lifetime's "Client List" makes even a dead fish like HBO's "Hung" look steamy ... What we do see is a lot of young, bare, hilariously sculpted male flesh: the Rub's clients appear to have walked over in a group from Chippendale's.

Now that boy bands and pop music are making a comeback, there are some things that are just better left in the '90s -- one of them being the Monica/Brandy collaboration. The two had a hit in 1998 with "The Boy Is Mine," so after 14 years, the R&B duo tried to recreate the magic with their new single "It All Belongs To Me." Perhaps, a release of the original song would have been more successful. That is, according to the A.V. Club. When you have to rhyme "Macbook" with "Facebook," it might be time to call it a day. Lead single "It All Belongs To Me" might be New Life's most pandering song, a duet with fellow R&B crooner Brandy that attempts to recapture some of the buzz from the pair's 1998 hit "The Boy Is Mine." Ironically, the song also serves up Monica's most current reference, a cheesy lyrical play on the words "Macbook" and "Facebook."

Even a few surprise celebrity cameos couldn't save Joss Whedon's long-awaited horror flick "The Cabin in the Woods" from the wrath of The New York Observer's Rex Reed, who fears that he may have lost touch with the "brand-new world out there." A testament to the wonders of writing under the guidance of crystal meth, this nightmare spoof of everything from The Texas Chainsaw Massacre to the Scream franchise totally defies logic, and pretty much eludes description ... "The Cabin in the Woods" has died already in a boring finale full of metaphysical explanations that filch from every horror genre ever invented.

"Lockout" doesn't seem to take itself too seriously, but even for Entertainment Weekly, what could have been a campy sci fi treat turned into big "hunk of cheese." What could be fun, though, is just a big hunk of cheese -- fromage, really, since it's a French production from Euro-schlock fancier Luc Besson -- and not nearly the clever idiocy it should be ... Too serious to be a parody and too stupid to be a viable action pic, Lockout floats like space junk in the final frontier.

Sometimes "Glee" is at its funniest when it's not even trying to be. Well, okay, so maybe HitFix was laughing at "Glee" and not with it, but a laugh is a laugh. Right? I'm not saying any of these plots would have been any better given extra time to breathe. But one could feel the notes coming down from FOX on the script: "MOAR BOMER PLEAZE KTHXBAI." (LOLcats run FOX. In case you were curious.) If nothing else, we would have been spared Darren Criss' performance of "Fighter," which God help me was the funniest thing I think I'll see in all of 2012 ... But God, the boxing ... and the showering ... and then a bizarre restaging of The Architect scene from "The Matrix Revolutions."