St. Vincent At Coachella 2012: Annie Clark's Full Performance (VIDEO)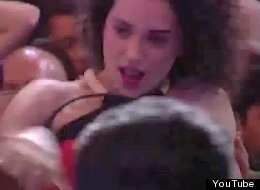 The Coachella live YouTube broadcasts are streaming in, and one of our favorites thus far has been watching St. Vincent (aka Annie Clark) perform her new song "KROKODIL" (pronounced crocodile) while crowdsurfing (it's not the first time). Tune in at 37:45 for the new track, and at 38:43 for the crowdsurfing to begin. Angry girl rock has never sounded (or looked) better.
WATCH:
Hear the studio version of "KROKODIL" when it's released on vinyl on April 21 for Record Store Day.
(via Pitchfork)