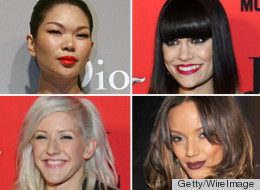 We spend lots of time focusing on what stars wear, but what about what they put on their faces? Although makeup may not seem important, plenty of women won't leave home without it.
In a survey, two-thirds of British women said that heading to the office bare-faced caused them more stress than public speaking, going on a first date or enduring a job interview. 91 percent of women surveyed would rather cancel a first date altogether than go without makeup on. And in the U.S., women spend around $7 billion on cosmetics every year.
And that doesn't even include hair. The AP recently reported that in 1950, about seven percent of women dyed their hair. Today? 95 percent or more.
With all that beauty-obsession (and our own love of makeup) in mind, we're taking a look at This Week In Beauty. From this week forward, we'll be showcasing the best, worst and most interesting styles of hair, makeup and nails that we came across this week. Take a look, get inspired and vote for your faves!
This Week In Beauty, 4/8-4/14, 2012
We're totally onboard with celebs rocking ombre hair, but Jessie J's hair from the Elle Women In Music event definitely isn't flattering. (FilmMagic photo)

Usually, when someone thinks of the smoky eye look, they think black or gray. But Kat Graham proves when done right, blue liner and shadow work well as a great game changer. (FilmMagic photo)

Model Crystal Renn recently went blonde in a seriously drastic move. This photo, taken at the New Year's In April: A Fool's Fete dinner dance, show her makeup, hair and over-the-top brows... we say two out of three (bonde hair, blonde brows, red lips) might work, but three's a bit much. (WireImage photo)

Laura Vandervoort attended Nylon Magazine's 13th Anniversary celebration and sported the popular one nail different color trend. (Getty photo)

Model Selita Ebanks opted for a wine color lipstick during the New Year's In April: A Fool's Fete dinner dance. Usually the model goes for a more natural look but she definitely brought drama that night! (WireImage photo)

Ellie Goulding brought her bold hair to the ELLE Women In Music Event in California this week. But getting another look at the singer's partially-shaved look doesn't make us like it any more... we're sort of hoping that patch over the left ear just grows back. (Getty photo)

Model Lv Yan attended a showing of Christian Dior's couture collection in Shanghai sporting strong matte red lipstick -- honestly it's the best red lip we've seen in a long time. (Getty photo)

Margherita Missoni tweeted a photo of her and her family completely makeup free and looking gorgeous!