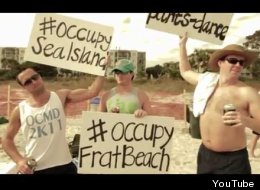 When we published our list of 10 of the craziest college parties, readers told us which parties we may have overlooked. These are nine more parties that made the cut.
Check out our new additions and the old ones, which ones do you think are the craziest?
more of the craziest college parties
Halloween in Ista Vista evolved from a water balloon fight to a massive party attracting 40,000 college-aged partiers.

A week where thousands of students party hard, play on Slip-n-Slides and participate in the biggest intramural events of the year. Rappers like Ludacris, Wiz Khalifa and Lil Wayne also perform to huge crowds on campus. Students proudly boast about it as "the greatest college weekend."

When the University of Georgia plays the University of Florida in football each season in Jacksonville, the Thursday before the game all the students travel to nearby St. Simon's Island. What ensues has been called one of the best parties in the nation. Chelsea Waddell, a senior at UGA, explained it to us: "There is a HUGE party on the beach complete with DJs and insanity. At the end of the day the tide ends up washing most of people's stuff away which is always entertaining. It's called 'Frat Beach' (so classy)."

UCSB used to have "Floatopia" when students came together to declare "I'm On A Float." Things got a little too crazy in 2009 though, and officials used beach closures as an attempt to prevent another "Floatopia" from happening. Students have tried to find alternate locations to keep the party going, and arrests and alcohol citations have followed.

Round-Up was originally a way to invite alumni back for barbeques at the University of Texas. Now it's more of a time for Greeks to party just after Spring Break and South By Southwest have wrapped up. One tipster told us in an email that "50,000+ cases of beer and millions of crawfish are consumed" by students in neon hats during the festivities.

On Green Beer Day at Miami University, all the bars in the town open at 5 a.m. Green Beer Day is a historical tradition of sorts, it has been happening since 1952. Some alumni even celebrate it outside of Ohio.

The annual rodeo at Auburn University is a very southern-styled college party. It used to be focused on students at Auburn University's College of Veterinary Medicine, but now it's an event drawing thousands of students.There's usually a concert following the rodeo with a major country music act -- this year it's Eric Church. All proceeds from the rodeo go to charity.

This gathering of hundreds of University of Arizona students is a favorite for both Playboy and BroBible.

CU- Boulder hosts a massive on campus smokeout every April. The administration is no fan of the event.