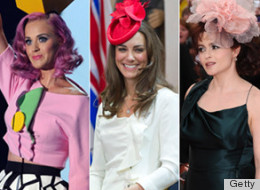 The royal wedding has sparked some quirky trends this year. We've seen everything from a flux of super cheap replicas of Kate Middleton's blue sapphire ring to people even going under the knife to get Pippa's perfect rump, but no fad has been quite as eye-catching as the fascinator. Princess Beatrice's hideous headgear aside, the Philip Treacy stunners that we spotted amongst wedding guests have inspired many celebs stateside to take a go at the daring trend.
From Sarah Jessica Parker's, er, interesting topper that she wore in Australia to Madonna's Super Bowl headpiece, these millinery wonders have been perched atop some notable heads this year. Even Kim Kardashian has had a bit of royal wedding nostalgia. The divorcee donned her own headband-meets-hat to Perez Hilton's birthday bash last month.
Unfortunately, if any celebs plan on rubbing shoulders with the queen at the Royal Ascot, they'll have to leave their new accessory at home.
Check out our gallery below of some of the best--and strangest--fascinators on non-nobles in 2011. Here's to another year of marriage and perplexing headgear!