Inside Miami's The District Factory Pop-Up Shop/Exhibit (PHOTOS)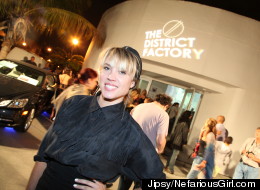 The launch of The District Factory in -- where else? --the Design District was a success on Saturday night during the Second Saturday Art Walk. The ladies behind the Factory, Grace M. Castro and Chelsea Conklin, gathered up local emerging designers and had a monster of a mixer with everyone from fashion bloggers and art students to fashion media and shoppers under one roof at the corner of NE 39th Street and 1st Avenue.
I found some interesting art, but I gravitated more toward accessories and skipped on getting a nice manicure from NailBar -- or rather, they were booked so I missed out. I did manage to get my hands on a tiny cocktail from SX Liquors and scored bags of Pop Chips that went well with my drink.
The District Factory is going to be a monthly indoor shopping mash-up with a rotating art exhibit. I loved it for the shopping as much as I loved it for the people watching. It was an interesting crowd. Stop by next month, but I suggest showing up early and taking your time visiting the vendors. You never know what you will find! -- Jipsy
View images below, and find more on NefariousGirl.com: