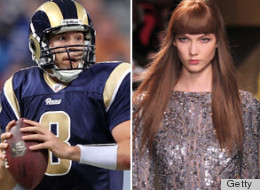 Well here's a match made in all-American Heaven: the belle of St. Louis, Karlie Kloss, and hunky St. Louis Rams quarterback Sam Bradford.
The pair were photographed at Coachella this weekend, with Kloss sweetly posing with a gleeful-looking Bradford (we'd be smiling like that too if Karlie had her arms around us).
Are the pair "more than friends"? We checked Karlie's typically active Twitter feed, but the model's fallen silent as of late, so we're not totally sure. But fingers crossed, because the 19-year-old model and 24-year-old football star are fairly adorable together (and certainly the cutest couple to hit St. Louis since, um...)
Plus, while we've already developed a full-blown crush on Karlie, it turns out Sam's quite the heartthrob as well: he once made a female fan burst into tears after autographing her "Marry Me Bradford" sign.
See pics of Sam and Karlie together at JustJared.com... and check out more famous model-athlete pairings below! Who's your fave?
Models & Athletes: A Match Made In Heaven
One of the world's most famous couples, Tom Brady & Gisele Bündchen. The couple married February 26, 2009.

Model Minka Kelly and Yankee shortstop Derek Jeter dated for three years before calling it quits in 2011.

Niki Taylor became engaged to NASCAR driver Burney Lamar after three dates. The couple married in 2006 and currently have two children together.

Victoria's Secret model Adriana Lima married basketball player Marko Jarić on Valentine's Day 2009.

Golf player Tiger Woods married model Elin Nordegren in October 2004. The couple divorced in 2010 after Woods' very public infidelity.

Supermodel Tyra Banks dated NBA-star Chris Webber from 2002 until 2004.

Sports Illustrated swimsuit model Brooklyn Decker married American tennis player Andy Roddick in 2009.

The Brazilian bombshell Daniella Cicaelli was engaged to soccer player Ronaldo Luís Nazário de Lima for three months in 2005. The couple split less than a year later.

After his split with Daniella, Ronaldo Luís Nazário de Lima dated another Brazilian beauty, Raica Oliveira in 2006.

French model Noemie Lenoir has a son with soccer player Claude Makélélé. The pair were together for four years before separating in 2009.

Sports Illustrated swimsuit model Elsa Benitez was married to NBA player Rony Seikaly. The couple divorced in 2005 and have one child together.

Model Irina Shayk has been dating soccer player Cristiano Ronaldo since May 2010.

French football player Christian Karembeu was married to Adriana Sklenaříková for 12 years before splitting in 2011.