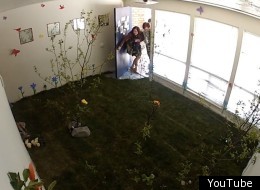 A group of college students in Utah have caused quite a stir online for an insanely funny Easter prank they recorded and posted on YouTube.
The video, recently uploaded by YouTube user TribalLunarSpeak, is titled, "Girls Get Easter Pranked with Live Animals."
According to the four minute video, which was reportedly shot by a group of students at Brigham Young University, they wanted to get payback on some girls who had allegedly swiped a friend's Nelson Mandela air freshener (yes, Nelson Mandela air fresheners do exist).
The friends did what any college-age pranksters would do and sought revenge, but the inventive group did not settle on a classic prank like toilet papering trees or waxing windows. No, these 21st. century tricksters took things to a whole new level.
When the unsuspecting girls left their home, the group entered their apartment and cleaned out their living room -- TV, furniture and all. Once complete, they put plastic on the floor, laid down sod, planted a tree or two and -- drum roll for the creme-de-la-creme of the prank –- introduced live bunnies and baby chickens to the newly created indoor ecosystem.
Once the scene was set, one of the tricksters dressed as a bunny and hid in a nearby room, while the others sat patiently in another apartment, watching a live feed of the girl's living room. It was not long before the investment paid off and girls returned. Their reactions were, of course, priceless and can be seen clearly in the above video.
The Huffington Post reached out to two of the pranksters and one of the victims Monday, but the trio has yet to respond.
The video, which was uploaded on April 11, has received more than 60,000 views.
CAUGHT ON VIDEO:
Motley Crue frontman Vince Neil became aggravated by a fan in the front row at his concert in New Mexico on Dec. 7, 2012, and tried to punch him -- but he missed.

A former doctor of the year has pleaded not guilty to driving drunk and under the influence of prescription drugs, following this spectacular car crash in Boston.

An officer with the El Cajon Police Department is shot right in front of a news camera on August 21, 2011. The entire event is caught on camera.

WARNING: The video below contains vulgar language and may not be suitable for some viewers. Mariah Pyatskowit, a Wisconsin student and mother of two who once tried out for Playboy magazine, recently had her day in court for a profanity-laced shopping rant that went viral online last year. She was convicted of disorderly conduct and ordered to perform 40 hours of community service, according to her attorney, Brad Priebe.

VIDEO (WARNING: Graphic physical violence and language) This video, (scroll down to watch) posted on YouTube by Marcus DeWayne Pace of Huntsville, Texas, shows a single-round brawl between an unidentified male in a white shirt and a street performer dressed as Batman.

The animals rights group PETA released a shocking video today that allegedly shows workers at a dairy factory farm brutally abusing a number of livestock. The video was allegedly taken in late 2011 and early 2012, during an undercover investigation of Adirondack Farms, LLC, in Clinton County, New York. According to PETA, their investigator discovered workers routinely used poles and canes to hit cows in the face, udder, torso, hindquarters and limbs when leading them around. A manager of the facility was also allegedly caught on video as he repeatedly electro-shocked a cow in the face. The same manager, according to the animal rights group, called another cow a "dumb bitch," jabbed it in the ribs with a screwdriver and used a skid steer to drag it approximately 25 feet.

A lioness at the Oregon Zoo thought she found herself the perfect meal when an Oregon family brought a baby zebra to her enclosure.

A company in Kasota, Minn., took home demolition to the next level when they used a tank to raze an abandoned house.

A woman's near-death experience when she reportedly falls asleep behind the wheel of a scooter and careens into oncoming traffic.

Raymond Van Arnam, 60, was sentenced by Otero County Magistrate Judge Gene Galassini to spend 30 days in the Otero County Jail for charges related to kicking in the back door of client Melissa Stonecipher's estranged husband's home.

In footage posted April 29 to YouTube -- entitled "Young woman being arrested for nothing" -- Skyler Irene Waite of Alaska argues with a pair of officers over a small amount of marijuana they spotted when responding to a Kodiak home for a medical emergency. The scene became physical when Waite, who says she was reaching for the door, brought her arm closer to one of the troopers.
Related on HuffPost: