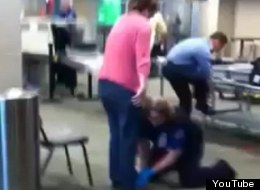 A grainy video of a woman sobbing as a TSA agent administered a patdown is getting media attention, thanks to a fellow passenger's blog post about the incident.
Jim Hoft, who runs the blog Gateway Pundit, took a video of the woman getting patted down at the airport in Madison, Wisconsin on Sunday and posted a scathing account of the incident.
In the video, a woman in a pink sweater can be heard sobbing as a TSA agent searches her. After the TSA agent has finished the patdown, the woman can be seen hunched over, visibly upset.
Hoft called the event a "horrible sexual violation." The TSA has certainly come under fire for patting down the elderly, babies, toddlers and even former Miss USA winners.
Hoft, however, fails to say if there were body scanners available -- which would've allowed the woman the option to avoid a patdown -- and doesn't mention additional details about the circumstances of the search.
It seemed as though the furor over patdowns reached a fever pitch in November 2010, when "National Opt Out Day" was implemented prior to Thanksgiving, but perhaps it's time for a renewed discussion over the faults of both the TSA and the American public: If a passenger opts out of a body scanner, should they be surprised at the physical nature of patdowns?
Editorial Note: The Huffington Post has no control over the title of the YouTube video shot by Jim Hoft.
Correction: A previous version of this story said the TSA had come under fire for patting down a former Miss America. The woman referenced is Susie Castillo, who won the Miss USA pageant in 2003. We apologize for the error.
A woman with cancer was "embarrassed" at Sea-Tac Airport when security asked her to lift her shirt and bandages.

Sen. Charles E. Schumer (D-NY) urged an undercover investigation of the TSA in a letter to administrator John Pistole.

In 2012, we discovered that the TSA had a serious iPad theft problem.

A woman accused the TSA of keeping her off a flight as retaliation for not allowing them to test her water, according to a video she posted on YouTube.

TSA officers at Boston's Logan Airport have complained that their coworkers are targeting minorities.

In a total win for the agency, TSA officers rescued a kidnapped woman at Miami International Airport.

An unidentified TSA agent left a note asking a woman to "Get Your Freak On Girl". The TSA agent was later fired.

Isis Brantley, a Dallas-area hair dresser, was mad at the TSA for checking her afro for weapons.

Ashley Yang poses for a photo at Los Angeles International Airport, LAX on Thursday, Aug. 4, 2011, in Los Angeles. Yang, a transgender woman, was fired from her Transportation Security Administration, TSA passenger screener job at LAX for using the women's room. She recently received a five-figure settlement, back pay and mandatory transgender sensitivity for TSA managers at the LAX airport. (AP Photo/Damian Dovarganes)

After a woman was allegedly sexually harassed by TSA agents at Sky Harbor International in Phoenix, AZ, her son documented the aftermath as the TSA, Southwest Airlines and Phoenix Police threaten him with arrest for filming the ordeal. Officials seem more concerned with the video than with the woman brought to tears at the security checkpoint. Video courtesy of YouTube.com/rynomaz111

Former Defense Secretary Donald Rumsfeld received a patdown while traveling through Chicago's O'Hare airport. (AP Photo/Dennis Cook, File)

A 61-year-old Denver woman named Yukari Mihamae was accused of groping a TSA agent. People rallied around her, even creating a Facebook page in support of her acquittal. Associated Press

A 94-year-old woman named Marian Paterson was patted down while standing. At the time, Paterson told ABC News she didn't understand why "of all people in America, why they'd pick out some little old lady." ABC News

Former cancer patient Thomas Sawyer was soaked by his own urine in July 2011 when his urostomy bag was burst by a TSA inspector during a patdown. Sadly, this was the second time this had happened to him. NBC

Ron Paul has come out firmly against the TSA saying it should be abolished.

A woman at Dulles Airport shared her vodka with passengers at security before the TSA could confiscate it.

This undated photo provided by Jean Weber shows her mother, Lena Reppert. The gravely ill 95-year-old woman had to remove her wet diaper at an airport so that she could be patted down by security screeners and nearly missed her flight, her daughter said. (AP Photo/Courtesy of Jean Weber)

Senate Homeland Security and Governmental Affairs Committee member Sen. Rand Paul, R-Ky. shows a picture he says is of a young girl being searched by the TSA, during the committee's hearing to examine ongoing transportation security threats, Wednesday, June 22, 2011, on Capitol Hill in Washington. (AP Photo/Jacquelyn Martin)

In this Saturday, May 7, 2011 handout photo, a baby boy, held by his mother, is frisked by TSA agents at Kansas City International Airport in Kansas City, Mo. Federal officials insisted Wednesday that screeners at Kansas City International Airport were just doing their jobs when they frisked the baby, an incident that gained worldwide attention after a pastor posted a cellphone picture of the pat-down on Twitter. (AP Photo)

Former Ms USA Susie Castillo filmed her breakdown at the Dallas airport after she felt she was inappropriately touched by a TSA agent.

Selena Drexel, of Bowling Green, Ky., sits in front of her home computer Wednesday, April 13, 2011, with a video showing her 6-year-old daughter Anna getting frisked at the New Orleans airport earlier this month by the TSA officials. (AP Photo/Joe Imel)

Rep. Sharon Cissna, D-Anchorage, center, answers questions from members of the press after disembarking the Alaska Ferry Matanuska, in Juneau, Alaska Thursday, February 24th, 2011. Cissna's four-day ordeal began when she refused to be patted down by TSA agents in the Seattle-Tacoma airport following a full body scan that detected her mastectomy, which the TSA agent felt necessitated the extra security precaution of a full body pat down, Cissna's second in three months. She refused, and took a ferry from Prince Rupert, British Columbia to Juneau to return to her legislative duties. Cisna vowed Thursday to fight for the rights of travelers who have been subjected to what she considers intrusive airport searches by federal airport screeners. (AP Photo/Chris Miller)

A 24-year-old Columbia University student jumped on a baggage carousel at JFK airport in an attempt to make his flight after a TSA agent wouldn't let him through security without a valid ID. The TSA wins this one, but it's still pretty funny.

Former Minnesota governor Jesse Ventura sued the TSA over their techniques. The lawsuit was thrown out; Ventura has since vowed to move to Mexico. (Photo by Amanda Edwards/Getty Images)

Surveillance video of Aaron Tobey going through airport security at Richmond International Airport Dec. 29, 2010 after stripping to his undershorts in protest of the TSA surveillance methods.

Who could forget Tammy Banovac, a 52-year old woman from Oklahoma, who stripped down to her skivvies (aka black lingerie) to get through security at Will Rogers World Airport? YouTube

Khloe Kardashian once compared the TSA's patdown techniques to rape. (AP Photo/Matt Sayles)

An illustration shows lobbying material protesting against full body scans outside of a conference on Transportation Security Administration procedures at the Carnegie Institute for Science in Washington, DC. (MANDEL NGAN/AFP/Getty Images)

John Tyner (aka "Don't Touch My Junk") posted a blog saying he had been ejected after being threatened with a fine and lawsuit for refusing a groin check after turning down a full-body scan at San Diego International Airport. (AP Photo/Rebekah Butler) NO SALES

Former "Baywatch" actress Donna D'Errico said that a TSA agent "singled her out" for a full-body scan at LAX. (Photo by Frederick M. Brown/Getty Images)

An enterprising traveler--in an attempt to avoid a full body scan--showed up to the airport in a bikini.

Paul Gambill, of Tempe, protests curbside at Sky Harbor International Airport Wednesday, Nov. 24, 2010 in Phoenix. Gambill was participating in the National Opt Out Day protest against the use of body-scanning technology by the TSA.(AP Photo/Matt York)

This man successfully navigated a TSA security checkpoint in a speedo swimsuit at the Salt Lake City International Airport on Tuesday, November 23, 2010 with the words, 'SCREW BIG SIS' written on his back. Why the speedo?

Activist Lori Lamb distributes stickers to travelers to protest against TSA's new security procedures at Los Angeles International Airport, Wednesday, Nov. 24, 2010. Holiday travelers dismayed by airport body scans planned protests at bustling airports, while the head of the nation's transport security agency urged passengers to comply with searches to reduce the possibility of delays on one of the busiest travel days of the year. (AP Photo/Jae C. Hong)

A Taiwanese animation company took on the TSA's practices in a holiday-themed mocking . NMA World Edition

Whoopi Goldberg has called TSA's patdowns "necessary." (AP Photo/Jeff Christensen)

Carol Jean Price was on her way from Florida to Ohio to attend a funeral when she was arrested after allegedly groping a TSA agent.

Hundreds of passengers and workers at JFK's Terminal 7 had to be evacuated in June after it was discovered that a TSA worker's metal detector was unplugged. (AP Photo/Erik S. Lesser, File)

Geraldo Rivera: I Was 'Manually Raped' By The TSA

William Shatner had an embarrassing experience with the TSA when his pants fell down while he was being searched. (Photo by Taylor Hill/Getty Images)

TSA denied a report that agents stole candy from a deaf man and cursed him out.

Jonah Falcon, the man with the world's largest penis, found himself getting frisked by TSA agents in California.

A woman said she was pulled aside and patted down by TSA agents after they noticed a gastric tube hanging from her stomach, which had been medically implanted after complications with a gastric bypass surgery.

Ashes of a man's grandfather were spilled in an airport security line by a TSA agent.